 17 Uniquely Egyptian Things to Buy in Cairo
A jewel, a rose... what else is there distinctly Cairo to bring home as a gift? Feeling lost for ideas? - Look in here to generate some and expand your souvenir-shopping horizons...
---
1. Incense Bring the Middle Eastern fragrance to your home, just by burning some Oud mixed powder. Your house and your heart will be filled with a warm oriental feeling, like the one embracing Cairo's narrow streets and markets.

There are two types of incenses available. First is the very famous Oud or "Agar-wood", which comes from the heart of the infected Aquilaria tree. Only trees infected "with some sort of mold" would produce the dark aromatic resin, that is processed into Oud. The raw materials are imported from countries of the Far East like India or Indonesia. Agar Wood is Egyptians' favorite fragrance, even though it is as pricey as it is pleasant. A cheaper alternative would be a mixed powder, containing other incenses like "Ein Al Afreet" and "Mastic". The other type is Bokhor "Incense sticks", available everywhere, from perfumery stores to supermarkets. It is of course a lot cheaper as it is made of regular wood mix soaked in fragrances or oils. These incenses are available in many shapes and varieties to fit different beautifully crafted censers.

Mainly used in religious rituals in mosques and churches around the world, Egyptians also use incenses to expel evil spirits from homes, as well as taking out bad smells.
The original Oud incense powder can be found only in certain stores, Khan El Khalili being the recommended place for many Oriental products.

Price:
Incense sticks (a box containing about 10 sticks): 5 ~ 10 Egyptian pounds
Local Incense powder: ~10 Egyptian pounds per 200 grams
Original Oud powder (mixed): ~100 Egyptian pounds per 50 grams
Where to find it:
Etaret El Ghoria
Located at the entrance of El Ghoria st. Al Azhar.
Tel: 0225883347
Open all week from 9:30 a.m. till 8 p.m.
Buy It on Amazon:
Offline reading and travel directions:
With GPSmyCity App you can read this article offline on your mobile device, use the embedded offline city map and GPS navigation, as well as create a self-guided walk to visit the venues featured in the article.
---
2. Bastet, Antique Stones, and Statues Replicas As ancient Egyptians worshiped and honored many gods and goddess, they built huge temples and great statues. One of the most interesting and emblematic ones is Bastet - the feline goddess, protector of Lower Egypt. Ancient Egyptians have always domesticated cats, keeping them in their homes as their farms' protectors from rats and birds. They even mummified these beloved cats, which were buried together with their owners. Until now, in the City of Bastet "Tal El Basta" were found and still exist near 300,000 mummified cats. With a head of a cat and the body of a woman, Bastet is believed to protect homes from evil and vermin. The goddess is usually depicted in one or two typical shapes or positions, but in many different materials, ranging from cheap plastic to expensive granite with rare colors. Look for the solid heavy stones, they will last forever.

Another famous Egyptian icon is the Scarab beetle. The little blue ones resemble creation and resurrection, as the beetle seemed to come out of nowhere, out of mud. The Scarab is also the symbol of the Great "Ra", the deity and leader of all Egyptian Gods who created himself out of nothing. A small blue beetle is a wonderful small gift with great meanings of renewal, regeneration, creation and resurrection. Mostly made of alabaster or granite, scarabs are available in many sizes to suit bracelets and necklaces or simply look over its owner from a shelf.

Price:
Small blue scarab stone: 7~15 pounds
Medium Bastet statue "about 25cm tall: 50 ~ 250 pounds (depending on material [plastic-granite-alabaster] used)
Large statue "about 45cm": 80 ~ 400 pounds (depending on material [plastic-granite-alabaster-wood], size and fine details applied)
Where to find it:
Ashor bazar
5 rabaa el selehdar
Tel: (+20)107332293 - (+20)107541136
Open all week from 9:30 a.m. till 9 p.m.
Buy It on Amazon:
Offline reading and travel directions:
With GPSmyCity App you can read this article offline on your mobile device, use the embedded offline city map and GPS navigation, as well as create a self-guided walk to visit the venues featured in the article.
---
3. Khayameya Egyptian Tent Textile decoration craft is a unique art, which started in the Pharaohic era and flourished after the Islamic conquest. Khayameya is a fine decorative textile, famous for its durability as it is made of thick Tiel "Kenaf" cloth. Egyptians used Khayameya in the past to create shelter tents, which protected them from the sun and sand storms while traveling in the Western desert. Khayameya artisans used to be chosen by the community sheikh of khayameya after examining the artisans' artwork, as a guarantee of quality and skill. Khayameya is all hand-made. The finest pieces usually feature Arabic typography or Islamic decorative shapes with golden thread strokes and colored fills. Nowadays it is used to decorate people's houses, wedding parties as well as funerals. Give an original oriental touch to your own home by purchasing a colorful Khayameya cloth or buy it as cushion cover, table runner or wall hanging.

Khayameya market is located right after "Bab Zewela" in Khayameya street, where it is exhibited in a vivid variety by the many dealers of the ground floor, while the workshops are located on the second floor. You can also find some expensive Khayameya art pieces in the Egyptian Textile Museum in El Mo-ez Street.

Price:
Around 1 square meter (printed) piece : 35 ~ 45 pounds
Original pieces (painted or mixed fabrics): around 80 ~ 150 pounds for the same size depends on design and details.
Where to find it:
Al Khayameya Market (many available stores and kiosks selling all different khayameya types)
Khayameya Market, Al Mo-ez st., Bab Zewela., Near Al Azhar.
Open all week from 9:30 a.m. till 6 p.m.
Buy It on Amazon:
Offline reading and travel directions:
With GPSmyCity App you can read this article offline on your mobile device, use the embedded offline city map and GPS navigation, as well as create a self-guided walk to visit the venues featured in the article.
---
4. Fez "Tarboosh" The fez used to be a formal hat for citizens and Pashas, made of soft and durable Kilim fabric. This fashionable headgear was worn in Egypt from 1805 till 1952, but now is rarely to be found. Only some Muslim Sheikhs and Bedouin travelers still use this vivid red cylinder-shaped hat, which was designed by the Andalusian Arabs back in the 17th century in the city of Fes in Morocco. From there is spread to the Middle East and specially the Ottoman empire and became a symbol of modernity. The Egyptian Fez almost disappeared with the end of the Mohamed Ali's family monarchy after the revolution in 1952. The Egyptian version is a little bit taller than the ones used in north African countries like Tunisia and Morocco, with a more recognizable cylinder shape.

The Fez factory in Cairo is located in El Goureya Street, almost the only place in Egypt which still makes them. The hat is made by shaping palm wicker around a copper template then covered with durable Kilim fabric and placed under a special piston. Afterward, the Fez is carefully ironed and a tassel is attached. Tassels used to be of three colors: black or dark blue for teachers, professors, and business men, while the light sky-blue ones were for Muslim funerals Quran reciters. Tip: wrap a white turban around your Fez for an authentic Bedouin look!

Prices range from 20 to 80 pounds for an original fez. Cheaper models are not recommended as they usually have carton paper instead of a wicker, are made from a different fabric and won't last for too long. Find a perfectly-sized fez in Moez street.
---
5. Hookah "Shisha"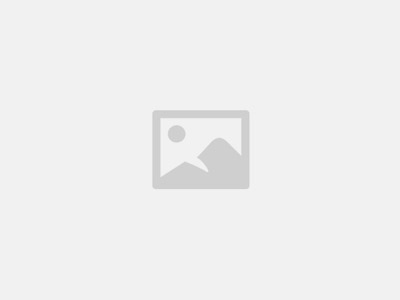 It is an almost 450 years old tradition here in Egypt to socialize by sitting in groups smoking Shisha in cafes. Egyptians smoke in their homes too, but the process needs a lot of care starting with lighting the charcoal to setting the stone "tobacco bowl". Filling it with the correct amount so it would allow air-flow is also tricky for beginners, but it gets easier with practice. Smoking fancy colored glass water-pipes with silver bodies, decorated and ready for your pleasure is a true oriental delight.

Shishas come designed in many sizes, from a small "less than 30cm" boxed one to a huge "almost 2 meters high" multiple-hose hookah to smoke tobacco at large Hookah parties. Just make sure you get all the needed accessories if you intend to use it. Usually made of brass, sometimes covered in chrome coating, new Hookah designers use stainless steel for durability, keeping an eye for fine decorative details. Traditional hookahs are mostly found with a hand blown glass bowl, but models with brass bowl can also be found. After taking care of the hardware, let's have a look now on the different tobacco flavors ranging from the original "harsh flavor" Mu'assel (made of molasses mixed with vegetable glycerin), to the "soft flavored" fruit tobacco like Tof-fah "Apple" and Nea-naa "Mint".

Hookahs are available is almost all souvenir stores, however recommended is you purchase one from Khan El Khalili, where you will be able to find competing prices and an impressive collection of hookahs in all sizes and materials.

Parts and accessories recommended:
Cleaning kit
Extra mouth tips "filter"
Extra bowls "Hagar"
Wind cover "mostly included"

Price:
Mini boxed about 26cm: 95 ~ 120 pounds
Medium sized brass: 150 ~ 200 pounds
Large: 250 ~ 300 pounds
Prices may vary depending on detail and materials used and extras included.
---
6. Cotton Robes and Vail "Jilbab & Burqa" Burqa with Yashmak is an authentic Egyptian heritage known for ages. During the last decades it started to vanish as a result of the Egyptian's exposure to the rest of the world, rising employment of women, and its difficulty in wearing. Before, Egyptian women had to wear this cotton veil with colored rollers to cover the hair, with a short Burqa covering the lower part of the face with open slots for easy breathing and showing the beauty behind. Added to this was a golden jewelry piece right above the nose and mouth as a symbol of wealth, called Yashmak. It is not worn in the city anymore, although in some remote areas of Egypt it is still relatively used, especially by desert Beduins. Burqa's availability for purchase is rare in the city, but it can easily be found in some stores in Cairo's oldest markets, like "El-Khan" in different variations, decorations, and colors. Prices range from 15 L.E. to 80 L.E. When it comes to men, there were many different types of clothing to be worn depending on location: from fishermen pants in the North to white Nubian Jilbab.

Most dominant clothing was and still is the regular Jilbab and Abaya (Galabeya) as it is pronounced in Egypt. This long loose cotton garment, with no collar and long wide sleeves, is the icon of comfort and coziness amongst most of the Egyptian farmers and Beduin men. Women's version would be more tight, mostly with a collar, and decorated with bright colors and coins. A regular Jilbab costs about a hundred pound and is easily found in many places around Cairo.
---
7. Jewelry Wooden Boxes Since the ancient times, Egyptian artisans were famous for their wood crafts, ranging from house furniture to large ships. One the most well-known objects, made until now in the same unbeatable quality is "Mother of Pearl" decorated Jewelry boxes. "Treasure Chests" as Egyptians understand them are their larger version, which cannot be easily carried by one.

How are these wonderful jewelry boxes made? First, by shaping the box out of sturdy beech wood or light weight rose wood, then filling the inside with red velvet lining. Then, the outside surface is decorated with different kinds of fossils, ranging from the expensive "mother of pearl" to the moderate conch seashell or even cheaper - using white plastic pieces to meet all different budgets, without any loss of in fine details, gorgeous arrangements and designs. Keep in mind however that "mother of pearl" pieces will keep changing their colors as time go by. Owning this piece of Egyptian art is a veritable acquisition of a treasure that can be handed down from mother to daughter and a generation to another. There are some famous designs of Egyptian jewelry boxes that are inherited from older artisans who invented this craft and made the most beautiful boxes and chests to please their Pharaohs, like the coffin jewel box with its raised cover.

Pyramid shaped boxes are good for decoration but they won't carry much. Try instead purchasing a piece from the artists' collection of octagonal, hexagonal, and rectangular shapes. Most of the boxes come with a simple lock and keys. Prices start from about 45 Egyptian pounds for a 25cm rectangular, well-decorated conch shell box.
---
8. Handcrafted Metal Works After paying a visit to the Egyptian History Museum, you will find out just how much Egyptians used silver, gold, copper, and iron to produce fabulous jewelry, decorated with gemstones. Metals like copper & silver were always present in kitchenware and utensils. Until the last century, a bride had to posses a complete set of copper kitchenware in order to conclude a marriage. This kitchenware was then inherited from a generation to the following.

Mainly in Arabic homes you shall find hand-crafted tea and coffee cups and ewer, mostly from copper, but rich families would have it made of silver, or even gold. Home décor items such as plates hanging on walls, shelves engraved with religious sayings, quotes or names in beautiful Arabic typography are also to be found, along with drawings depicting the contemporary lifestyle or the ancient Gods and temples.

All metal handicrafts ranging from jewelry, utensils, to decorative plates or even Hookah bodies and lanterns are centered in Khan El Khalily and El Mosky, which abounds mostly in silver items. There you will be able to see skilled workers knocking on sheets of metal to shape the final products, or even have your portrait drawn on a decorative plate. These gifts will last forever, regardless of the money paid for them or material used:
- Copper
- Brass
- Silver [4 qualities (600, 800, 900, 925)]
- Gold coated Silver.

Prices vary, depending on the item and material used. Those with exquisite tastes, be prepared to pay a few hundred pounds.
---
9. Eastern Desserts Time to indulge your senses with the sweet taste of the East? Baklava will get you addicted, while the Saraya pie is believed to connect the loved ones together. In the Egyptian culture, dessert is an important part of everyday meal, although it is usually served at lunch time, accompanied by red tea. It is customary to bring desserts when visiting each other houses. Tradition says that when a guy proposes marriage, his family should bring along some sweets and offer them to the girl's family.

These pastries are to be found everywhere in Egypt, in a large palette of colors and smells. They are indeed so many, that one could easily lost. Our recommendation is made mostly out of concerns of packaging and accessibility, suggesting the following:
- Baklava: famous velo dough stuffed with walnuts/pistachios and sweetened by sugar syrup or honey
- Stuffed Dates: stuffed with almonds and dried
- Saraya Pie: special toasted bread pie sweetened by Caramel "burnt sugar" and served with cream.
- Basbosa: made of Smeed (semolina) "corn flour" with sugar and oil, almonds or walnuts can be added, stuffed with cream or blank.
- Semsemia: crunchy sesame seeds with sugar syrup and rose water.

In every other sweet's ingredients, one will find wheat/corn flour, sugar, lemon, hazelnuts, sesame-seed. In the past, most pastries used to be made with full-fat margarine, which now is usually replaced with vegetable oil. Downtown Cairo is a great place for a good purchase of famous pastry brands like "Queedar" and "La Pouar".

Price:
One kilogram : 35 ~ 150 pounds (depends on amount of nuts and type of oils used)
---
10. Papyrus Manuscripts and Paintings "Replica" Explore the past via this purely-Egyptian paper, made of Papyrus plants cultivated in the river Nile's delta. Egyptians kept their secrets and stories in writings and paintings on this paper, which is largely credited for their exceptional survival throughout the centuries gone by. The papyrus-making process was invented thousands of years ago and disappeared for centuries until rediscovered again by egyptologists during 1940s. Ever since modern artists found it a very good material to illustrate history in paintings as well as typography, the papyrus has regained its well-deserved place in the arts' world.

Note that all papyrus papers are hand-made. Readily available in Cairo's markets, original paintings and manuscripts by famous artists can turn out to be very expensive. The original ones are made by using original inks and high quality papyrus paper, and even illuminated inks that glow in the dark. They are however, a terrific investment - expect these paintings to last forever, just as the ancient manuscripts did. For smaller pockets, there are machine-stamped papyrus manuscripts and paintings, which are equally beautiful looking and lasting. The choice of works available on papyrus paper is vast, from from ancient Egyptian paintings and temple drawings and manuscripts, to modern art and Arabic typography. You can even ask the artists-sellers to draw your own name in hieroglyphs on a papyrus piece. Available in light beige original color, and dark brown aged paper, all painting are made from thick papyrus paper which can be hung on walls with or without a frame. Your loved ones will definitely be impressed.

Price:
Small ~30cm color printed: 20 ~ 25 pounds
Hand-painted ~ 30cm: 50~150 pounds
Hand-painted ~1m/1.5m: 350 ~ 1200 pounds
There are some famous artist signed paintings that sell for a lot more.
---
11. Pottery and Ceramics Since the ancient pre-dynastic period, Egyptian artisans have been creating high-quality pottery mainly for functional reasons like perfume bottles, wine vases, cups and dishes. It is them who discovered the art of covering clay with enamel by using soapstone to resist high temperatures without cracking, keeping their designs' vivid colors lasting for thousands of years.

Until today, Egypt is gifted with highly skilled potters, producing almost the same pottery shapes as their predecessors from the times of Pharaohs, used for utilitarian tasks in homes and outdoors decoration. The most famous ceramics and pottery comes from two places in Egypt: "Bany Swaif" - north - where the glazed and beautifully colored pots, dishes, and kitchenware are made from the best ceramic materials, with paintings showing the simple life of birds and green plants surrounding the artisans, and "Aswan" - south – known for its first-class "Aswanian Clay" or mud for porous pottery. Hand-crafted and decorated bowls and jars, are made on a hand turned potter wheel and then burnt in huge fire furnaces (kilns). Porous pottery are mainly used in Egypt to store and cool water, even in warm places. It is too easy to find Aswanian clay pottery (porous) all around the city, while glazed colored dishes are hard to spot.

Price:
Table plate (glazed and hand colored): 15~35 pounds
Salad mini collection (glazed and colored): 40 ~ 90 pounds
Porous mini jar: 10 ~ 15 pounds
Incenses burner with cover: 15~40 pounds
All prices vary depending on fine detail and size.
---
12. Belly Dancing Costume Ever wondered how belly dancers look so great and attractive? In this Middle Eastern art the outfit plays a huge role: vivid colors, twinkling beads and sparkling golden coins make most of the magic. Just a few moves and you are on.

Belly-dancing started in Egypt with the Arab incursions, who settled in the south. The dance was called Baladi dance, where mostly full-body garments were used (as the Arabs see it as inappropriate to uncover female body parts), tight, black or colored and decorated with coins, adorned with a waste-scarf as a belt.

Another known variant is Shaabi dance (dancers being called Ghazeeya), where the costume is more vivid in colors and decorations, but is still a one-piece dress. The moves are almost the same as in the Baladi, except for the part when the dancer uses a small brass instrument "Sagat" (finger cymbals) clamped to her fingers and a leg bracelet "Kholkhal" with brass coins.

During the last century, Sharqi dancing started to become popular, because of its more attractive, explicit moves. This new dance's boldness is also reflected in the fancy dress, divided in several pieces painted in fancy colors and adorned with many decorative accessories, like turbans or head scarves, hand scarves, waste belts with beads and coins.

You can see professional dancers in Al Haram street's night clubs to learn some new moves, or you can buy instructional DVDs to practice more advanced moves when at home. Purchasing such a costume is a must, especially when it is available in so many sizes and types. The costume should include the "one piece or two pieces" dress plus the scarfs, beads, belts, brass Sagat, and bracelets.

An outfit made of one piece would cost around 90 to 300 L.E., while a two pieces outfit starts from 150 up to 800 L.E. depending on the design, fabrics used, materials and props supplied, even though they can always be purchased separately (scarfs, bracelets, belts, etc..).
---
13. Ramadan Lantern "Fanoos" The word "Fanoos" is of a Greek origin and means "light instrument". Fanoos were used in Egypt before electricity was invented, especially in the decades during the Fatimid period when the Caliph issued a law forcing all shops and houses to hang a lantern in their front. The said law also established that any woman who should go out at night, to be accompanied by a boy carrying a lantern. By time, Fanoos developed as one of the symbols of Egypt's most beloved cultural holiday the Ramadan - "Muslim holy month". In this time, kids tour all around the streets singing "waha-we ya waha-we" playing with their candle-lit lanterns and waking up the sleeping ones, as Muslims are usually in prayers almost all night during this month.

The original Lanterns are created by Fawaniski (Lanterns Welder) "also called Samkarii" by welding sheet metal to create fabulous shapes and decorating its windows using beautiful colored glass. As this profession fades away, lanterns get really expensive sometimes depending on the size and materials used in addition to the details and decorations applied. Cheaper Chinese replicas are also available, usually made of plastic bodies with battery-powered bulbs. Original lanterns are to be found in the widest range of shapes from the "morabah" straight four sided, "mahroud" bent sides shape, "Abu Louz" almond shaped, "negma" star shaped to "mosadass" six sided shape, and many others.

The Fanoos makes an impressive art piece, anyone would be happy to own. Find one at Khan El Khalili, with prices ranging from 35 pounds to 700 pounds depending on the size and details.
---
14. Egyptian Musical Instruments "Thousands of years ago the God Thoth created music to help Osiris bring peace and civilize the world" the ancient Egyptians believed. Drawings inside tombs show musicians playing various instruments like flutes, harps, lutes, and percussion instruments in many events and occasions, as well as prayers. Now, after centuries of evolution and Arab influence, Egyptians still use their own instruments almost in the same way, whether for the mystical Muslim Sufi Zekr ritual, or in modern pop music. The Nai "Arabian flute", Oud "developed lute", and Duff are always the back-bone for any type of music in Egypt and the surrounding Arab countries.

Now talking about the instruments themselves, let's start with the Nai, which is a light-weighted instrument producing faint, touching sad sounds. Keep in mind it is a true art to play this instrument, regarded by many as simply too difficult. If you want to try yourself, be daring! The Egyptian Nais are made of special light-weight wood and are not expensive at all. The Duff or Darbuka is the easiest to play, as we all know the beat. A professional darbuka is usually quite heavy as it is made out of metal, while an amateur one is usually made of wood, being much lighter and cheaper. The Duff is also quite popular, the advantages being that it is easy to carry and play. However, it is the Oud that is considered the most famous Arabian string instrument, with its easy-to-recognize pear shaped back and five pairs of strings. Ouds can be plain colored, or highly custom-decorated with conch shells and Arabic typography.

Price:
Small Nai : ~45 pounds
Oud : 300 ~700 (depends on wood used and decorations applied)
Duff: ~ 45 pounds
Small wooden Darbuka: ~15 pounds, large ~ 50 pounds
Metal professional Darbouka: 200~700 pounds (depends on size, brand, materials used, decorations)
---
15. Hand Blown Glass Works and Ornaments As many different traditions and crafts were preserved by Egyptians since the ancient times, the glass-blowing craft makes no exception. An art with a very individual, authentic and exotic spirit - the process of making glass ornaments and perfume bottles would be nothing without the magic brought by the vivid colors and reflections. Glass making was known in Egypt back in 2000 B.C., as the country has always been rich in the purest silica raw materials. Hand-blown glass craft flourished with the Arabian conquest, glass being used in mirrors, dishes, bottles, lamps, and windows, all in brilliant colors obtained by using metal oxides.

Nowadays, its artistic touch can be enjoyed in many products like small décor ornaments, or fancy colored vases and bowls. Must-have products are small, beautifully designed perfume and Kohl bottles, which come in thousand variations and sizes, thin and light-weighted, as well as large and heavy pieces. Be careful and request if not provided, an appropriate packaging as these delicate glass pieces, with their fine details and ornamentation are quite fragile. Also look for bottles with a steady, properly shaped base so the glass product doesn't lean when filled, a common issue with thin glass bottles.

Glass works and ornaments are easily found everywhere in Cairo, specially at El Khan "The Old Market" where naturally, all the interesting souvenirs are concealed. Prices for a small 10 ml bottle range from 10 to 20 L.E., while a fine detailed 50 ml would go up to 80 L.E.
---
16. Kohl Ancient Egyptians created a magnificent cosmetic powder by grinding the Galena rock "lead sulfide" to highlight their eyes. The beauty ritual was believed to protect eyes from harsh light rays and curses by evil-eyes, as well as spring eye-allergies.

Kohl is widely used until nowadays. Although there are cheap and easier replacements of the product, Egyptians still prefer using the original powder. There are two kinds of Kohl powder: "Bared" translated as "cold" also known as regular Kohl which is used as a beauty product and "Hami" translated as "hot", mainly used as a cure and eye-cleaner. "Hami" makes eyes tear, because of the Golden vine rock added to the Galena powder, believed to have curative effects for the eyes. Largely used is the famous Pakistani Kohl, made of sandalwood and other organic sources like charcoal. The Pakistani Kohl does not come in powder but in creamy state ready for application with pen.

Available in perfumery stores easily found in the Al Alzhar area, both types are sold in small containers. A small 25 grams one would cost about 15 L.E., but do consider buying a Kohl bottle made of copper or glass with the proper eye pen.
Where to find it:
"Etaret El Ghoria"
located in the entrance of El Ghoria st. Al Azhar.
Tel:(+20)225883347
Open all week from 9:30 a.m. till 8 p.m.
---
17. Kilim Carpets Kilim art is one of the earliest wool spinning crafts in Egypt, obtained by shaping rugs and table covers using wool, cotton, and silk to create fabulous décor pieces. The Kilim carpets are made entirely of natural, environment-friendly materials and organic chemical-free colors, hand-made using a wooden loom. The carpets are created by mixing different threads, weaved together to create a sturdy, fine embroidery. This handicraft is still popular in Egypt, despite the flourishing of industrial carpet-making technology. Kilim pieces are valued for the fine details of their drawings, the carefully-selected fabrics (Silk, Cotton, Wool) and for the number and size of stitches, not by the surface area.

Kilim can be utilized in many ways. Large ones could be used as carpets, or door mats, couch covers, while the smaller ones can be hanged on walls as exquisite art pieces. Kilim carpets have a soft woolen texture, decorated in vivid colors mostly obtained from onion peels for browns, hibiscus flower for reds, and parsley for greens. Designs also vary from Nubian compositions of camels and houses, to Islamic patterns and geometric designs, or even modern art to match all tastes. Asuit and Fe-wa are two cities competing for excellence in Kilim making and design quality, so it is always better to look for a Kilim made in either one.

Price:
A small woolen Kilim ~50cm piece: 25~80 pounds
Larger pieces vary between 1m ~ 3.5m: 150~1200 pounds
Prices vary depending on actual size, materials used, design and stitch size
Where to find it:
El kahhal carpets
Khan el khalili
Sikket al-Badistan Islamic Cairo
Tel: (+20)25909128
www.elkahhal.com
Open all week from 10:00 a.m. till 9 p.m.
With another branch in:
El kahhal carpets
5 sphinx Square
Agouza
Giza
Tel: (+20)33058032
Other Interesting Souvenirs from Egypt
---
If traveling to Egypt is not on your immediate agenda, or you simply can't afford an extra space in your luggage, fortunately, these days, you can find a wide selection of authentic and truly interesting Egyptian souvenirs online. Presented here are some of the Egyptian products sought by foreign visitors, now available online for your convenience.
1. Ancient Style Jewelry and Amulets
- Pieces of Gold and Sterling Silver jewelry and amulets, made in contemporary Egypt, replicating the works of ancient Egyptian masters once worn by Egyptian pharaohs, not only in terms of looks, but also in terms of ancient technique used to make these by hand. A unique opportunity to reach out and feel the millenia-old tradition.
2. Alabaster Stone Items - Soft white alabaster stone, sourced at Luxor in the south of Egypt, is a popular material these days for making cool items: candle holders, dishes, vases, etc. Each piece is made by hand – from stone extraction at the quarry till the finishing polish of the end product – and thus has its own character.
3. Essential Oils - High quality original essential oils from Egypt – Musk and Geranium – will smell amazing on you and can also be used as an incense oil burner for aromatherapy or a massage oil. Also great if added to any unscented soap or shampoo. Geranium essential oil is also good for balancing and regulating hormones and bacteria in the body, and is deemed helpful in a number of skin applications, keeping the skin supple and balanced, reducing acne breakouts, and more.
Get GPSmyCity App for IOS or Android
You can read offline thousands of travel articles like this one in the "GPSmyCity: Walks in 1K+ Cities" app on
iTunes App Store
or
Google Play Store
. The apps also offer city offline maps and GPS navigation to guide you to the places featured in the articles.
Walking Tours in Cairo, Egypt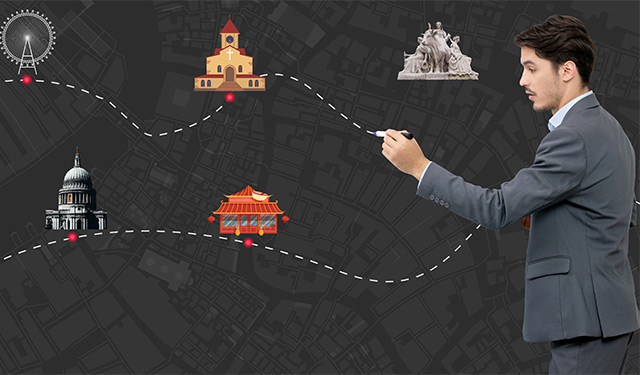 Creating your own self-guided walk in Cairo is easy and fun. Choose the city attractions that you want to see and a walk route map will be created just for you. You can even set your hotel as the start point of the walk.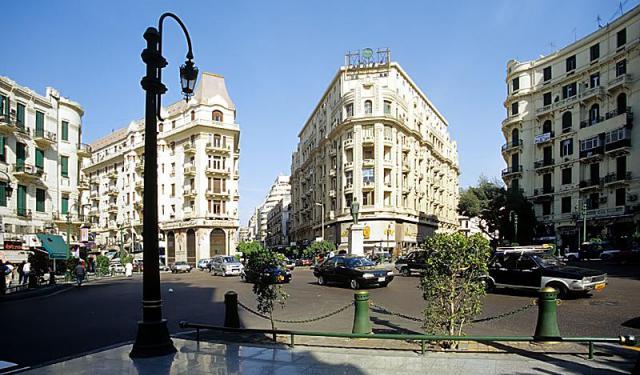 The area occupied by present-day Cairo has been the center of Egypt since the days of the pharaohs. The strategic location at the base of the Nile River delta first hosted the town of Memphis, the epicenter of trade, culture, and religion. By the fourth century, Memphis was in decline, and the Romans established the Babylon fortress. The Babylon is the oldest structure in the city today. When the...
view more
Tour Duration:
2 Hour(s)
Travel Distance:
4.1 Km or 2.5 Miles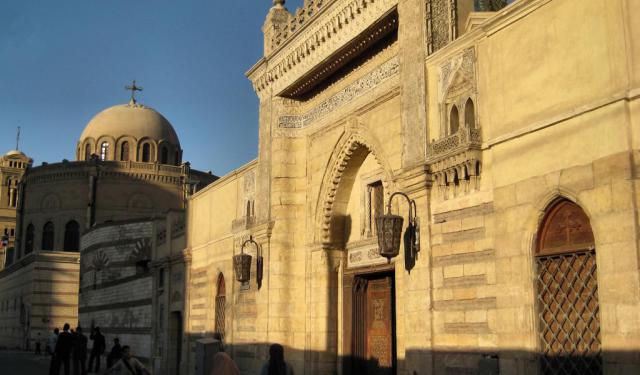 Old Cairo, otherwise known as Coptic Cairo or Masr al-Qadima, largely predates the city of Cairo as we know it. Some Egyptologists think that a settlement here existed as far back as the 6th century BC. Later, the Romans built on the site a fortress named Babylon. Today, this ancient threshold of history is still in place, its weathered ramparts and sturdy bastions bearing witness to the ebb and...
view more
Tour Duration:
1 Hour(s)
Travel Distance:
1.0 Km or 0.6 Miles