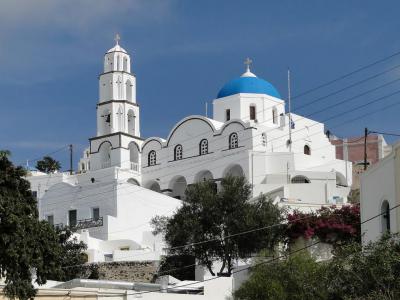 Agios Nikolaos Monastery, Santorini
Located in the stunning and blue waters of the Aegean Sea is the Agios Nikolaos Monastery. This female convent is located between the villages of Firostefani and Imerovogli in Santorini. It is dedicated to saints Agios Panteleimon, Agios Nikolaos, and Zoodochos Pigi, and was established by the Gizi family in 1651. Prior to its current use, it was a private family chapel.

The design of the nunnery reflects the clean and simple lines of Cycladic style, while the interior of the edifice features beautiful 17th century artwork and spectacular golden icons. Two museums, folklore and ecclesiastical, are also located on the property.

Each year on August 15th, locals come here to celebrate the religious festival the Feast of the Assumption of the Virgin Mary. After church services, locals and visitors celebrate the holiday with food, song, and dance. Visitors will enjoy viewing the handmade textiles that the nuns make, using hand looms.

The monastery is open daily from 8 am to 12:30 pm and 4 pm to 7 pm.
Agios Nikolaos Monastery on Map
Walking Tours in Santorini, Greece