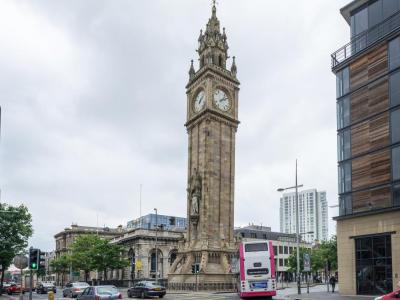 Albert Memorial Clock, Belfast
The Albert Memorial Clock is a tall clock tower located at Queen's Square. It was completed in 1869 and is one of the best known landmarks of Belfast.

In 1865, a competition for the design of a memorial to Queen Victoria's late Prince Consort, Prince Albert, was won by W. J. Barre, who had earlier designed Belfast's Ulster Hall. Initially Barre was not awarded his prize and the contract was secretly given to Lanyon, Lynn and Lanyon, who had come second. Following public outcry the contract was eventually awarded to Barre.

The sandstone memorial was constructed between 1865 and 1869 and stands 113 feet tall in a mix of French and Italian Gothic styles. The base of the tower features flying buttresses with heraldic lions. A statue of the Prince in the robes of a Knight of the Garter stands on the western side of the tower. Inside the tower there is a two tonne bell.

As a result of being built on wooden piles on marshy, reclaimed land around the River Farset, the top of the tower leans four feet off the perpendicular. Due to this movement, some ornamental work on the belfry was removed in 1924 along with a stone canopy over the statue of the Prince.

Being situated close to the docks, the tower was once infamous for being frequented by prostitutes plying their trade with visiting sailors. However, in recent years regeneration has turned the surrounding Queen's Square and Custom's House Square into attractive, modern public spaces with trees, fountains and sculptures.

In 1947, the popular British film "Odd Man Out" was filmed partly in Belfast, with the Albert Clock as a central location.
Sight description based on Wikipedia.
Albert Memorial Clock on Map
Walking Tours in Belfast, Ireland