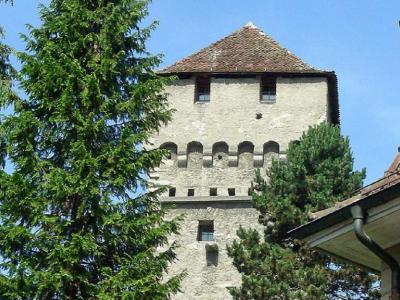 Allenwindenturm (Allenwinden Tower), Lucerne
The Allenwindenturm is a half-tower and one of the best-known tourist attractions in Lucerne. It was built presumably in 1408 – the exact year is subject to further architectural archaeological investigation. As for the roof, the time of its construction is more or less accurately determined as autumn/winter 1540/1541 at the earliest.

At some point in the 16th century, the tower went by the name of the second Holdermeyerturm (Holdermeyer Tower), in honor of the then city treasurer. Formerly the tallest structure in the city – 27.5 meters high, with 9.1 x 7 meters in footprint, and the walls 1.8 meters thick – the Allenwinden Tower has since been surpassed by many newer buildings.

In 1866 it was used by the local fire brigade for hose drying, and from 1868 served as a storage (sometimes unlicensed) for various products, e.g. petroleum. As of the late 1980s, the tower has been used as a rehearsal facility by two of the Lucerne Carnival clubs, namely: the Lucerne Tambouren Club and the Luzerner Maskenfreunde Club.

Presently, the Allenwindenturm is not open to the public.
Allenwindenturm (Allenwinden Tower) on Map
Walking Tours in Lucerne, Switzerland