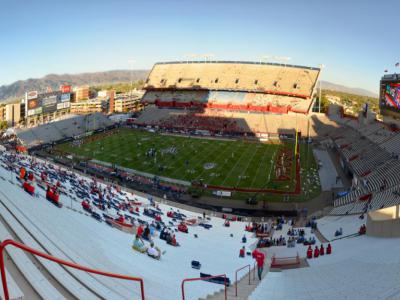 Arizona Stadium, Tucson
Arizona Stadium is an outdoor college football stadium on the campus of the University of Arizona. It is the home field of the Arizona Wildcats of the Pac-12 Conference.

Originally constructed in 1929 to hold 7,000 spectators, the stadium's seating capacity has been expanded numerous times since. Today the stadium has a total capacity of over 50,000. The facility also includes the offices of the Wildcat football program, as well as some non-athletic academic offices, including the Steward Observatory Mirror Lab.

The football field runs in the traditional north–south configuration and the new artificial Field Turf sits at an elevation of 2,430 feet (740 m) above sea level. The ZonaZoo student section takes up 9,000 seats on lower east sideline, making it one of the larger student sections in the Pac-12. The west side bleachers are generally reserved for season ticket holders and the visiting team gets a section in the southwest corner.
Sight description based on Wikipedia.
Walking Tours in Tucson, Arizona