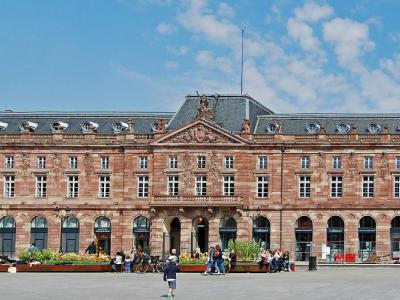 Aubette Building, Strasbourg
The Aubette Building began life as a monastic complex in the 13th century. By the 16th century, it was in disrepair and had mostly collapsed. What little was standing was being used by the military. Blondel was commissioned to rebuild the remnants to add some contemporary French styling to the Kléber Square in the 1700s.

The resulting building was used as a military garrison for a while. But in the 1800s, the building transitioned to being used for education and entertainment. This building was also destroyed in 1870 by a fire, but Blondel's façade remained.

The façade remained until the 1920s when a modern wave of architecture flooded the Kléber Square. Three renowned architectural pioneers and avant-garde artists, Theo van Doesburg, Sophie Taeuber-Arp, and Jean Arp, worked to bridge the gap between the human body and architecture. They used elements of elementarism, neo-plastic style, and dada art.

Today the Aubette Building is an important historic landmark and open to visit with free admission. The building has been called the Sistine Chapel of Abstract Art by some. There is a theater, gallery, and café.
Walking Tours in Strasbourg, France