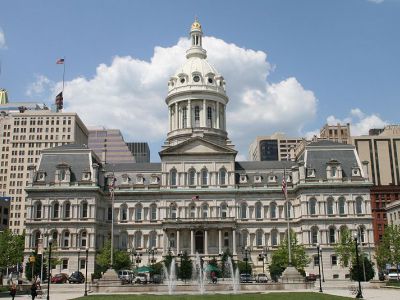 Baltimore City Hall, Baltimore
Baltimore City Hall is the seat of government for Baltimore. It houses the offices of the Mayor, the city council, and other government officials.

The building was designed by a 22-year-old architect, George A. Frederick, in the Second Empire architectural style. The engineer Wendel Bollman designed the city hall's dome and cast iron roof. Construction began in 1867 and was completed in 1875.

The six-story edifice was the first building constructed solely for the city's government. Before its construction, city leaders met in the Maryland Insurance Company building, the Baltimore Dancing Assembly, the Baltimore Exchange Company, and Peale's Baltimore Museum and Gallery of Fine Arts.

The City Hall fell under disrepair after the end of World War II. After 15 pounds of iron collapsed from the iron dome into the Board of Estimates hearing room, a decision was made to renovate the building. Two additional floors were added, which doubled the usable space in the building.

Baltimore City Hall is designated as a Baltimore City Landmark; is on the U.S. National Register of Historic Places.
Baltimore City Hall on Map
Walking Tours in Baltimore, Maryland