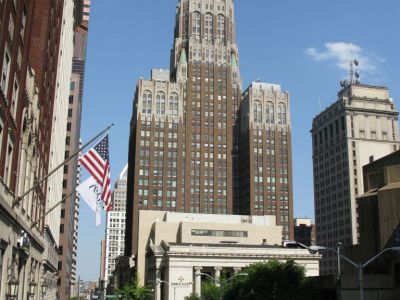 Bank of America Building, Baltimore
The Bank of America Building, formerly known as the Baltimore Trust Company Building, is a stunning 34-story skyscraper located in the heart of downtown Baltimore. It was designed by the architectural firm of Taylor and Fisher and completed in just eighteen months at a cost of $3 million in 1929.

When it was first built, the Bank of America Building was the tallest building in the state and the tallest office building south of New York City. The building's exterior is an impressive sight, decorated with ornate Romanesque human and animal images, stylized eagles, and intricate carvings of birds and lions. The copper and gold roof on top of the building is a sight to behold and adds to its grandeur.

The building's interior is equally impressive, featuring a two-story main banking lobby that is highly decorated with mosaic floors designed by Hildreth Meiere. The lobby also showcases historic murals by Griffith Baily Coale and McGill Mackall that depict significant events in Baltimore's history, such as the Baltimore fire of 1904 and the writing of the National Anthem during the War of 1812.

Despite its grandeur and historical significance, the building faced financial troubles shortly after its completion. The Baltimore Trust Company, which moved into the building in 1929, went bankrupt in 1933 and was placed in receivership in 1935. The building remained vacant until the Public Works Administration in Maryland took it over as part of the New Deal.

Today, the Bank of America Building remains a landmark and a testament to the city's rich history and architectural legacy. Plans to cover the historic lobby's mosaic floors with artificial turf to create an Under Armour gym have been met with controversy, but the building's stunning exterior and ornate interior continue to attract visitors from all over the world.
Bank of America Building on Map
Walking Tours in Baltimore, Maryland