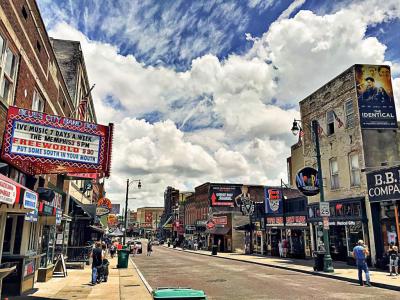 Beale Street, Memphis
(must see)
Known as the "Home of the Blues" and one of America's most famous streets, Beale Street is the very gist of entertainment in Memphis. This is the place where in 1909, W. C. Handy wrote "Mr. Crump" as a campaign song for political machine leader E. H. Crump, later renamed "The Memphis Blues." Handy also wrote a song called "Beale Street Blues" in 1916 which influenced the change of the street's name from Beale Avenue to Beale Street.

From the 1920s to the 1940s, Louis Armstrong, Muddy Waters, Albert King, Memphis Minnie, B. B. King, Rufus Thomas, Rosco Gordon and other blues and jazz legends played on Beale Street and helped develop the style known as Memphis Blues. As a young man, B. B. King was billed as "the Beale Street Blues Boy."

A significant location in the city's history and that of blues music, the part of the street from Main to 4th was declared a National Historic Landmark on May 23, 1966. Today, the blues clubs and restaurants lining the Beale are major tourist attractions in Memphis. Festivals and outdoor concerts frequently bring large crowds to the street and its surrounding areas. There are more than 25 clubs and shops selling Memphis souvenirs here.

Why You Should Visit:
To enjoy authentic Memphis soul food, listen to live music, or party!

***Elvis Presley Walk***

The young Elvis used to spend a lot of time with the musicians gathered on Beale street. The music and the vibe of the street had a great influence on him. Today, his name can be spotted on one of the brass notes on the Beale Street Brass Notes Walk of Fame.
Sight description based on Wikipedia.
Walking Tours in Memphis, Tennessee