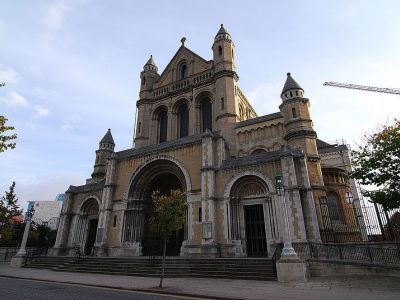 Belfast Cathedral, Belfast
(must see)
Belfast Cathedral, also known as St Anne's Cathedral, was built on the same grounds as the parish church of St. Anne. The original church, built in 1776, was encased by Belfast Cathedral upon its construction in 1899. The only remnant of the first church is the Good Samaritan window, located in the sanctuary.

Belfast Cathedral was designed by architect Sir Thomas Drew. It was completed in 1904. The church was expanded in 1924 and again in 1932. Tragically, the cathedral was nearly destroyed during World War II. Due to The Troubles and staggering finance issues, reconstruction wasn't completed until 1981.

Today, church-goers and visitors to Belfast will see the beauty of the mosaics, stone sculptures and gothic-influenced arches. The feature that arguably stands out the most is the Spire of Hope, a 131-foot (40 meter) steel spire. The Spire of Hope was added in 2007.

Another feature that visitors should note is the Belfast Cathedral organ. It was built in 1907 by Harrison and Harrison, and then rebuilt in 1975. It is the second-largest pipe organ in Northern Ireland.

Visitors are welcome inside Belfast Cathedral. It is open from 10 AM to 4 PM from Tuesday through Saturday. It is also open for church services at 11 AM on Sundays.
Walking Tours in Belfast, Ireland