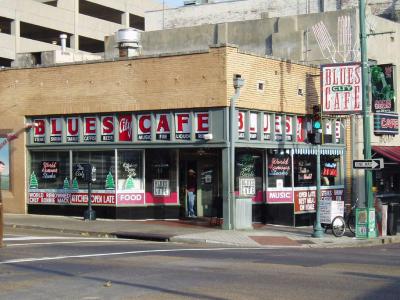 Blues City Cafe, Memphis
"Yeah, I take my old guitar and I go down on Beale, play some good blues and get a real good meal," sings the soul musician Dan Penn. According to him, this is "the one place in this world where you can get something good to eat."

The old-school juke joint/eatery – specialized in the blues music & soul food of the Delta region – opened in March of 1991 under the name of "Doe's Eat Place". In October of 1993, investors bought Doe's and changed the name to Blues City Cafe. Still, many of the old faces seen at Doe's remain at Blues City Cafe today, making it the #1 business at the #1 tourist attraction in Tennessee.

In the early 90s, Blues City Cafe developed a menu that would work for the Memphis and Beale Street locals and tourists alike, comprising BBQ ribs, juicy burgers, oven-broiled steaks, catfish and homemade tamales, feat. a special blend of beef and the gumbo thick and tasty with just the right amount of kick. If you're hungry, you should try their "Best Meal on Beale" platter which serves a half-rack of barbecued ribs (served wet – not dry) and fried catfish (aka catfish perfection) with all the fixings.

Over the years, many musician celebrities have graced the Cafe's music venue, called the Band Box, including BB King, Jerry Lee Lewis, Ike Turner, Kid Rock, Keanu Reeves & Dogstar, Queen Latifah, Smashing Pumpkins, Charlie Watts, and others. There also have been just as many interesting guests, from the famous to the infamous, who have come to enjoy the hot blues, cold brews and barbecue here. Among them: President Bill Clinton, Robert Plant, Buddy Guy, Jesse Jackson, Steve Cohen, Milos Furman, Sydney Pollack, Keith Carradine, Jimmy Paige, Alice Cooper, Tom Cruise, Robert Duvall, Robert DeNiro, Woody Harrelson, Elizabeth Hurley, James Gandolfini, Ed Harris, Conan O'Brien, Steven Seagall, Jerry Seinfeld, Bill Murray, Samuel L. Jackson, and many NBA players.

The place has been featured on the Travel Channel's "A Taste of America", The Food Network's Bobby Flay Show and in the Bon Appetit BBQ issue.

The kitchen is open until 3 am, so be sure to come back by after a night on the Beale for a warm apple dumpling or the hot fudge brownie and ice cream. The bar remains open until 5 am.
Walking Tours in Memphis, Tennessee