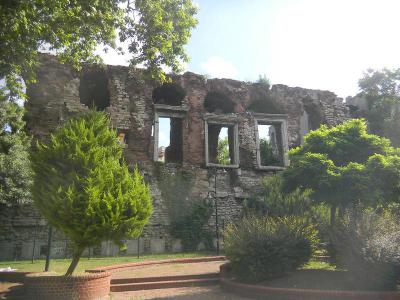 Boukoleon Palace, Istanbul
Lying on the shore of the Marmara Sea in Istanbul, this was one of the city's first Byzantine Palaces, most probably built by Roman Emperor Theodosius II in the 5th century. Originally called Hormisdas, it was later named the Boukoleon (or Bucoleon) from a statue of a bull and a lion that stood the small harbor in front of the palace.

The known and still visible parts were added during the time of Emperor Theophilos (829-842), who greatly expanded and renovated the structure, adding a 300m-long façade on top of the sea-facing walls. It would remain the main palace for the Byzantine court until the 11th century with the construction of the Palace of Blachernae by the Komnenos dynasty.

In the 1204 sacking of Constantinople during the Fourth Crusade, Boukoleon was taken by Boniface of Montferrat who found in it treasures "beyond end or counting." Among his prizes was also Empress Margaret, daughter of Bela III of Hungary, who took refuge at the palace and whom Boniface eventually married.

In 2018, it was announced by the Istanbul Metropolitan Municipality that the palace would be restored by the Cultural and Natural Heritage Conservation Board, with plans to develop it into an open-air museum with "a timber walking trail for visitors, a museum, and a pool." Until that time comes, the ruins are temporarily protected by fences.
Walking Tours in Istanbul, Turkey
Useful Travel Guides for Planning Your Trip
--- Istanbul Shopping Guide: 16 Turkish Items To Bring Home
Istanbul, known throughout history as Byzantium and Constantinople, has been a major center of commerce and trade, a place where merchants and general folk would rush to regularly in search of exotic things. In our days, modern travelers to Istanbul are also bound to enjoy a truly magnificent...