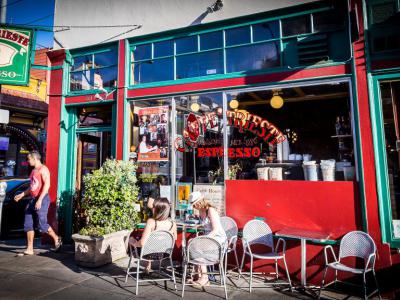 Caffe Trieste, San Francisco
Caffè Trieste is a renowned chain consisting of four coffeehouses and one retail store with a strong Italian influence, located in the San Francisco and Monterey Bay Areas of California. Established in 1956 by Giovanni Giotta, also known as "Papa Gianni," Caffè Trieste holds significance as the first espresso house on the West Coast. Giotta, who migrated to the United States from Rovigno D'Istria, Croatia, after World War II (when the region was part of Italy), longed for the espresso houses of Trieste, Italy. Consequently, he decided to open his café, giving birth to Caffè Trieste.

Situated in San Francisco's North Beach, the original Caffè Trieste swiftly gained popularity among the predominantly Italian residents of the neighborhood. Giotta fondly recalled, "It was all Italian people," referring to the community, "But I managed to introduce cappuccino to the American people."

Caffè Trieste also served as a gathering spot for renowned writers associated with the Beat movement, including Lawrence Ferlinghetti, who continues to be a regular visitor. Other notable literary figures such as Alan Watts, Jack Kerouac, Allen Ginsberg, Richard Brautigan, Bob Kaufman, Gregory Corso, Michael McClure, Kenneth Rexroth, and Neeli Cherkovski frequented the café during the 1950s and 1960s when they resided in North Beach.

The café's prominence extended beyond its local reputation, as it featured in numerous films, television shows, radio programs, magazines, and various books related to photography, tourism, and more. Its influence transcended national boundaries, garnering attention both domestically and internationally. Notably, Francis Ford Coppola found inspiration while sitting in Caffè Trieste, where he penned a significant portion of the screenplay for the iconic film, The Godfather.
Walking Tours in San Francisco, California
Useful Travel Guides for Planning Your Trip
--- Divine Artisan Chocolates in San Francisco
San Francisco is home to the most delicious artisan chocolates! From the historic Ghirardelli Chocolate Factory to New American TCHO chocolates, there are many local chocolate boutiques and factories to visit where you might be treated to a few samples. From exotic flavors such as lavender-walnut... 14 Souvenirs That Scream San Francisco
Home to many historic landmarks, such as Golden Gate Bridge, Chinatown and Alcatraz, San Francisco is closely associated with many iconic images of the American culture, such as Levi's jeans, baseball, and hippie movement. Modern Frisco carefully preserves its legacy by keeping it alive...