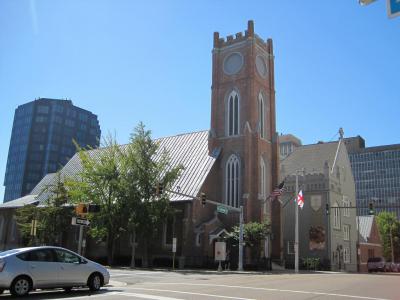 Calvary Episcopal Church, Memphis
Located at the intersection of North Second Street and Adams Avenue, the Calvary Episcopal Church is part of the Episcopal Diocese of West Tennessee. It is the oldest public building in continuous use in the city of Memphis. It was founded in 1832 and is considered the "Mother Parish" of Memphis and Shelby County. The church also founded additional congregations, Grace Church, St. Mary's Cathedral, and the Church of the Holy Communion. The building was designed by the Reverend Philip Alston. It was placed on the National Register of Historic Places in 1982.

Serving the community is what the church strives to do. They offer a Calvary Place Child Care Center for working parents and a Waffle Shop that provides weekday meals during Lent. Their Soup Sunday program sells soup at an affordable price and the proceeds are used to feed Memphis' hungry. The church offers grants to further its mission. They also have a Community Service Ministry that helps to support the needs of those within the area.

Faith formation classes are offered for adults and children.

Worship Hours:
7:45 am for the traditional service and 9 am for the Eucharist service. Weekday services are at 6:15 pm on Wednesdays.
Calvary Episcopal Church on Map
Walking Tours in Memphis, Tennessee