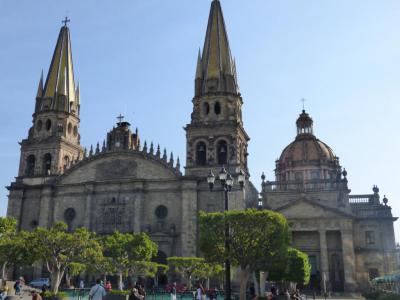 Catedral de Guadalajara (Guadalajara Cathedral), Guadalajara
(must see)
Guadalajara's first cathedral was built in 1541. This cathedral was damaged in a fire, and Phillip II, King of Spain, commissioned a new cathedral. Construction began in 1561 and was completed in 1618. The Spanish Renaissance-style Guadalajara Cathedral was consecrated in 1716.

After earthquakes damaged the cathedral in 1818 and 1849, architect Manuel Gómez Ibarra designed new Neo-Gothic towers. The towers were completed in 1854. Several more earthquakes have damaged the cathedral over the last one hundred years.

Guadalajara Cathedral has eleven altars gifted by King Fernando VII of Spain. The altars are dedicated to Our Lady of Guadalupe, Our Lady of the Assumption, Our Lady of Zapopan, and Our Lady of Sorrows. In addition, there are also altars dedicated to Saint Thomas Aquinas, Saint Nicholas, Saint Dominic, Saint Christopher, and Saint John of God.

The relics of Santa Innocencia are housed in the cathedral. In the 1700s, Santa Innocencia was killed by her father for converting to Catholicism. In addition, the cathedral houses the remains of several prominent cardinals and bishops.

In the Martyrs Relic, you can see the bones of 23 men that died during the Cristero Wars. The Cristero War, also known as the Cristero Rebellion, was a widespread struggle in central and western Mexico against the implementation of secularist and anticlerical articles of the 1917 Constitution. Pope John Paul II beatified these remains in 1992.

Spanish artist Bartolome Murillo painted the beautiful The Assumption of the Virgin in 1650. Emperor Carlos V donated the Virgin of the Roses sculpture.

The 19th-century organ was imported from France and took an entire year to assemble. The beautiful stained glass windows also came from France.

The cathedral has hidden tunnels that were used as escape routes and hiding places.
Catedral de Guadalajara (Guadalajara Cathedral) on Map
Walking Tours in Guadalajara, Mexico