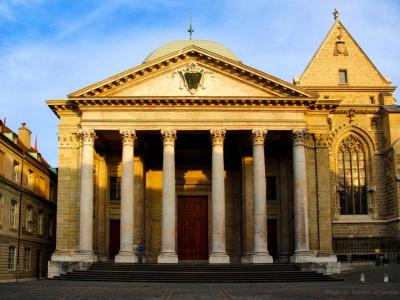 Cathédrale de St. Pierre (St. Pierre Cathedral), Geneva
(must see)
The St. Pierre Cathedral is probably one of the best-known religious sights in Geneva. Originally built as a Roman Catholic cathedral, St. Pierre became a Reformed Protestant Church during the Reformation, and was actively used by the reformists for their daily sermons. It is known as the adopted home church of John Calvin, one of the leaders of the Protestant Reformation; inside there is a wooden chair he used.

The history of this church, however, goes back to the 12th century, hence the mix of Roman, Gothic and Neoclassical architecture. Although there had been a cathedral on this site since the fourth century, the present building was begun under Arducius de Faucigny, the prince-bishop of the Diocese of Geneva, around 1160. The interior of the large, cruciform, late-Gothic church was stripped of its rood screen, side chapels and all decorative works of art, leaving a vast, white-washed interior contrasting sharply with the interior of a typical Roman Catholic Church.

A Neo-Classical main façade was added in the 18th century. In the 1890s, Genevans redecorated a large, side chapel adjacent to the cathedral's main doors in polychrome, Gothic revival style. In 1444, German artist Konrad Witz painted here the so-called "Miraculous Draught of Fishes", which is now held in the Museum of History in Geneva.

Each summer there are bilingual services held in the cathedral for both German and French speaking worshipers.

Tips:
Inside, you can find an exquisite little chapel with astonishing carved figures and a beautiful organ - Chapel of the Maccabees.
Underneath the cathedral there is an interesting archaeological site.

Opening Hours:
Mon-Sat: 10am-5:30pm; Sun: 12pm-5:30pm (Oct-May); Mon-Sat: 9am-6:30pm; Sun: 12pm-6:30pm; carillon concert: 5pm; organ concert: 6pm (Jun-Sep)
Free admission. Last entry to the tower: half an hour before Cathedral's closing time.
Sight description based on Wikipedia.
Cathédrale de St. Pierre (St. Pierre Cathedral) on Map
Walking Tours in Geneva, Switzerland