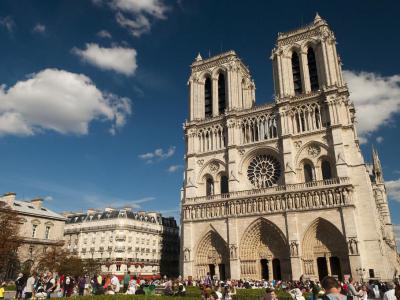 Cathedrale Notre-Dame (Notre-Dame Cathedral), Paris
(must see)
While the Eiffel Tower is an instantly recognizable symbol of France, the Notre-Dame Cathedral is an unmistakable symbol of Paris. At the time of its construction, it was the most ambitious cathedral project ever attempted in France, with its vaults rising over 33 meters and holding a national height record for several decades. Its architectural complexity and intrinsic beauty have long made it one of Paris's top landmarks and an absolute must-see for visitors.

Largely completed in the 13th century, the cathedral's construction took overall around 160 years, and thus can be attributed to an early-Gothic period. Following later attempts to modernize it in the 13th century, the final major round of work on the building came in the 19th century to repair the damage caused by the French Revolution's brutal vandalism. Almost all of the decorative elements seen today date back to that time.

Aside from architecture, another reason the Notre-Dame is so famous is "The Hunchback of Notre-Dame" novel by Victor Hugo written in 1831. In the course of history, the cathedral has witnessed many glorious and tragic events. In the midst of the Second World War, upon the Fall of France, there were fears that the German invaders might destroy the freshly renovated stained glass of the Rose Window. As a result, a lion's portion of the glass was hidden and re-installed only after the war ended. Created in the 13th century, this world's biggest glass window recently has made headlines again after successfully surviving the devastating fire in April 2019, along with other artifacts and relics which were temporarily removed for safety.

Regrettably, that fire completely destroyed certain parts of the building, like the roof and the historic spire. To rebuild the iconic monument, a major fundraising campaign has been launched managing to generate over $1bln. After a projected five-year restoration period, hopes are high that the Notre-Dame Cathedral will reopen its doors in renewed splendor.
Cathedrale Notre-Dame (Notre-Dame Cathedral) on Map
Walking Tours in Paris, France
Useful Travel Guides for Planning Your Trip
---