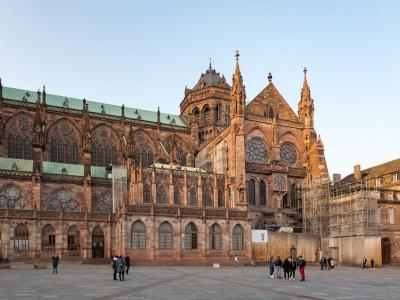 Cathédrale Notre-Dame de Strasbourg (Strasbourg Cathedral), Strasbourg
(must see)
Until 1874 the Strasbourg Cathedral was the world's tallest building; today it is the 6th tallest church and its tower dominates the Strasbourg skyline.

Described by Victor Hugo as a "gigantic and delicate marvel", and by Goethe as a "sublimely towering, wide-spreading tree of God", the cathedral is visible far across the plains of Alsace and can be seen from as far off as the Vosges Mountains or the Black Forest on the other side of the Rhine. Sandstone from Vosges, used in construction, gives the cathedral its characteristic pink hue.

The building took many centuries to finish and has three distinctive styles. Its crypt, dating back to 1015, has been expanded over the centuries. The North Tower, built in 1439, stands 142 meters high and on a clear day you can see for over 30km from its observation deck. The Lawrence Portal in the North Transept was finished in 1505 in a markedly post-Gothic, early-Renaissance style.

Most of the statues in the cathedral are copies of the originals kept at the Oeuvre Notre-Dame Museum. The stunning Astronomical Clock, built in 1843 to replace an earlier clock, is 18 meters high and is one of the largest in the world.

The clock show, including a 30-minute movie presentation with English subtitles, is at 12:30 pm in the summer, but you must be there at around 11:30 am to book your entry at the back door of the Cathedral, since the places are limited. Climbing up the tower is not difficult, as long as you can manage 330 steps - and it's worth the effort!
Cathédrale Notre-Dame de Strasbourg (Strasbourg Cathedral) on Map
Walking Tours in Strasbourg, France