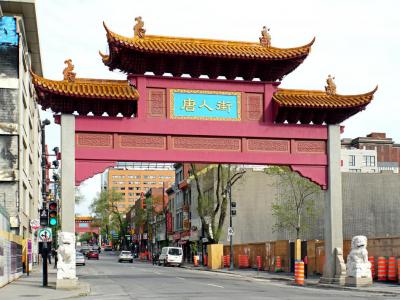 Chinatown, Montreal
Dating back to the 1860s, Montreal's Chinatown with its actual perimeter defined by guardian lions is far smaller than many of those found in other parts of N America. If you only plan to stroll in order to enjoy the hustle and bustle, the architecture and the waft of the exotic (including traditional festivals and holidays), it is easily covered within about an hour. Otherwise, it's a place where to believe what you see, you must eat it.

If limited in time or budget, check the PÂTISSERIE HARMONIE for some savory buns or Vietnamese 'bánh mì' sandwich. Alternatively, for ultimate satisfaction in this realm one must try local noodles, dumplings, dim sum, and/or the Peking duck. The Vietnamese pho, Japanese ramen/sushi, and Korean bibimbap/kimchi are also all there for you to discover.

Here is a list of current favorites: NOUILLES DE LAN ZHOU for hand-pulled noodles; KIM FUNG for dim sum; MAI XIANG YUAN or BIEN MAISON for steamed dumplings; PHO BAC for Vietnamese; CHEZ BONG for Korean; ORANGE ROUGE for high-end fusion; SUMO RAMEN for ramen; LE MAL NÉCESSAIRE for cocktail bar; BEIJING or MON NAN for Peking duck; and LA CAPITAL TACOS for flavorful Mexican/Latin cuisine served in Chinese dinnerware. On another note, the Dragon's Beard candy from BONBONS À LA BARBE DE DRAGON and the crispy duck/pork/chicken from LAM KEE are good take-outs.
Walking Tours in Montreal, Canada
Useful Travel Guides for Planning Your Trip
--- Montreal Souvenirs: 15 Trip Mementos to Bring Home
The outpost of Frenchness in North America (and the world's 2nd largest francophone city after Paris), Montreal is the meeting point of the New and Old World styles, the collision of the French, English and Aboriginal cultures. The historical and ethnic uniqueness of the city is seen throughout...