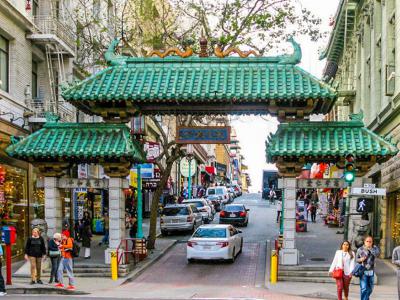 Chinatown Gate (Dragon's Gate), San Francisco
Facing south, as per the principles of Feng Shui, this large dragon-clad arch is a popular (yet somewhat dramatic) entry to San Francisco Chinatown. The gate, opened in 1970, was made from materials gifted by Taiwan, but the actual design came from Chinese-American architect Clayton Lee inspired by ceremonial entrances to Chinese villages. In keeping with tradition, whereby such gateways are often commissioned by the wealthy who wish to enhance their status by having their names inscribed on the gates, the Chinatown portal carries a four-character inscription that translates to "All under heaven is for the good of the people."

Among other notable features, it has two large guardian lions (or lion dogs) looking over the pedestrian entrances. The one on the west side is male, and that on the east is female. You can always tell which is which since the lioness holds a cub under her paw while the male holds a ball. Both the gate and the lions symbolize protection from evil spirits.

Beyond the gate, the pagoda-topped architecture was innovated by Chinatown merchants in the 1920s – a pioneering initiative to lure tourists with a distinctive modern look. Indeed, this had worked, as the dragon streetlights soon chased away the red-light-heyday shady ladies. Today, they light the way to the elegant shops where you can buy antiques, silks, teas, gems, and more.
Chinatown Gate (Dragon's Gate) on Map
Walking Tours in San Francisco, California
Useful Travel Guides for Planning Your Trip
--- Divine Artisan Chocolates in San Francisco
San Francisco is home to the most delicious artisan chocolates! From the historic Ghirardelli Chocolate Factory to New American TCHO chocolates, there are many local chocolate boutiques and factories to visit where you might be treated to a few samples. From exotic flavors such as lavender-walnut... 14 Souvenirs That Scream San Francisco
Home to many historic landmarks, such as Golden Gate Bridge, Chinatown and Alcatraz, San Francisco is closely associated with many iconic images of the American culture, such as Levi's jeans, baseball, and hippie movement. Modern Frisco carefully preserves its legacy by keeping it alive...