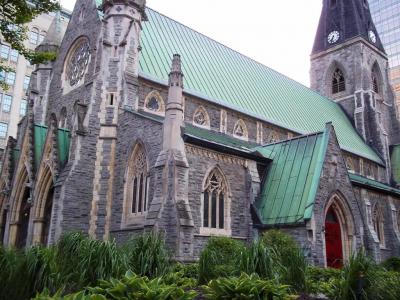 Christ Church Cathedral, Montreal
This landmark of downtown Montreal is an excellent example of Gothic Revival style in Canada. The detailed exterior of pointed arches, buttresses, and crenellated turrets conceals a sober but elegant wood/marble interior. Built between 1857-60 to a design by the distinguished architect Frank Wills, the structure reflects an Anglican ideal of its time: namely, a return to the English medieval church in both liturgy and architecture.

To be fair, it's a very unusual church for a number of reasons. One is that the whole of the terra firma beneath the church was sold to developers to create a huge underground shopping mall ("Promenades Cathédrale"), which links the Underground City to Eaton's. What further strikes as rather unusual is the "stave church" style of the roof's interior recalling Scandinavian Churches one may see around Bergen, Norway, while the beautiful old art may strike as perhaps more fitting to be in an Eastern Orthodox Church with its flat, gold-trimmed icon depictions of the Holy Family.

Unlike other main houses of worship in Montreal, the building is open most of the time and there are no admission fees. There is usually a warm welcome for visitors and the music is outstanding.

***The RMS Titanic Walking Tour***
A memorial tablet to 23-year-old Vivan Arthur Ponsonby Payne, "erected by 125 of his associates", can be found in the Chapel of St. John of Jerusalem, to the left side of the main altar. Payne was a secretary of Charles Hays, president of the Grand Trunk Pacific Railroad, whom he accompanied on a trip to Europe, his first trip abroad. The young man wrote his mother stating how astonished he was at how green the countryside in England was in March, but the vacation was cut short when Hays learned that his daughter Louise was having complications in the last stages of her pregnancy; also, he wanted to be back home for the imminent opening of his new hotel, the Château Laurier in Ottawa. Payne boarded the Titanic at Southampton as a first-class passenger, but died in the sinking and his body, if recovered, was never identified. Christ Church Cathedral is also where Harry Markland Molson, another victim of the Titanic disaster, worshipped.
Christ Church Cathedral on Map
Walking Tours in Montreal, Canada
Useful Travel Guides for Planning Your Trip
--- Montreal Souvenirs: 15 Trip Mementos to Bring Home
The outpost of Frenchness in North America (and the world's 2nd largest francophone city after Paris), Montreal is the meeting point of the New and Old World styles, the collision of the French, English and Aboriginal cultures. The historical and ethnic uniqueness of the city is seen throughout...