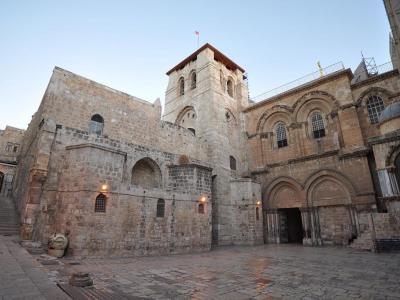 Church of the Holy Sepulchre / Christ's Tomb, Jerusalem
(must see)
The spiritual heart of Jerusalem's Christian Quarter and a magnet for pilgrims from across the globe since the 4th century, the Church of the Holy Sepulchre (also called the Church of the Resurrection or Church of the Anastasis by Eastern Christians) contains, according to traditions dating back to at least the 4th century, the two holiest sites in Christianity: the site where Jesus was crucified – at a place known as Calvary or Golgotha; and Jesus's empty tomb where he is said to have been buried and resurrected. Enclosed by a 19th-century shrine called the Aedicula, the latter draws many worshippers to services and ceremonies during various times of the day, with staff seeking to manage the number of visitors to prevent overcrowding. As such, be patient if you want to see the tomb – it can take a while.

The church proper is rather an odd hodgepodge of styles: a mix of humble and simple in spots and ornate in others. Within it are the last four (or, by some definitions, five) stations of the Via Dolorosa, representing the final episodes of the Passion of Jesus. The main denominations sharing property over parts of the church under the Status Quo are the Roman Catholic, Greek Orthodox and Armenian Apostolic, and to a lesser degree the Coptic, Syriac, and Ethiopian Orthodox.

There are numerous chapels to see here, each with its own special section of this holy ground. Directly beneath Calvary is the Chapel of Adam, which the ancient tradition holds is where the biblical character Adam, the first man, was buried. Behind the aedicule is the Coptic Chapel where more of the tomb is visible, but the Chapel of the Prison of Christ, the Chapel of St. Mary Magdalene, and the Chapel of the Finding of the Cross are also open for visitation.

Tip:
Come early and bring a guidebook. Nothing is signposted and there are no guides, so if you'd rather not bring a guidebook, at least do some research first. Proper dress is required for entering the temple.
Church of the Holy Sepulchre / Christ's Tomb on Map
Walking Tours in Jerusalem, Israel
Useful Travel Guides for Planning Your Trip
--- 16 Uniquely Israel Things to Buy in Jerusalem
Modern day Jerusalem is a mosaic of neighborhoods, reflecting different historical periods, cultures, and religions. The influx of repatriates in recent years has made the cultural and artisanal scene of the city even more colourful and diverse. To find your way through Jerusalem's intricate...