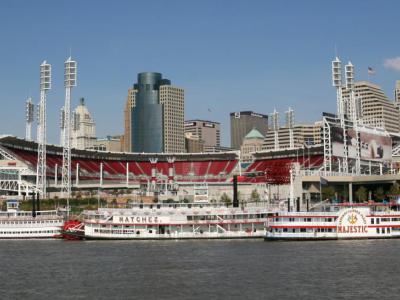 Cincinnati Reds Hall of Fame & Museum, Cincinnati
Located next to the Great American Ballpark, the Cincinnati Reds Hall of Fame & Museum offers photographs and displays from throughout the history of Cincinnati's Major League Baseball team.

The Cincinnati Reds Hall of Fame was established in 1958. Every other year, players, managers and executives are inducted into the Cincinnati Reds Hall of Fame. These inductees are voted on by the Baseball Writers' Association of America.

The Hall of Fame Museum was opened in 2004. Items on display date all the way back to 1869 when the Cincinnati Red Stockings were newly formed. Other items featured in exhibits include Topps trading cards, artifacts from the 1919 World Series, jerseys from the Cincinnati Tigers and each of the World Series trophies that have been earned by the team.

Visitors will see the Hall of Fame Gallery that features touchscreen to display more information about each of the inductees. Tourists will see images of such baseball greats as Frank Robinson, Johnny Bench, Barry Larkin, Ken Griffey Jr. and Ernie Lombardi.
Cincinnati Reds Hall of Fame & Museum on Map
Walking Tours in Cincinnati, Ohio