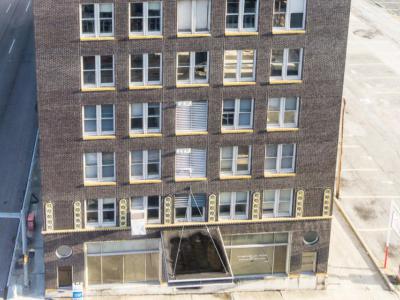 Dermon Building, Memphis
The Dermon Building is an impressive 10-story 10,000 square foot building in downtown Memphis. Located at the junction of Court Avenue and North Third Street, the building is famous for its dark brown brick and yellow, green, and white terra cotta exterior. Although many buildings featured terra cotta design, most terra cotta buildings in the 1920s were white in color. The multi-colored design of this building makes it a remarkable contribution to the Memphis skyline.

The building was constructed in 1925 by architects Charles Pfiel and George Awsum, designers of the Tennessee Trust Building, the Fire Engine House #1, and the Memphis Police Station. The building housed the Dave Dermon Company, a real estate company, and Dave Dermon Insurance until 1983. In addition to the beautiful terra cotta design, the building is an important part of Memphis history because of its contribution to the real estate development of the city.

Dave Dermon played an important part in the development of downtown and mid-town Memphis between World War I and the Depression through his realty company. He constructed apartment complexes, auto dealerships, and subdivisions. Because of this contribution to the city, the building became a part of the National Historic Places in 1984. The upper floors of the building offer spectacular views of downtown Memphis.
Walking Tours in Memphis, Tennessee