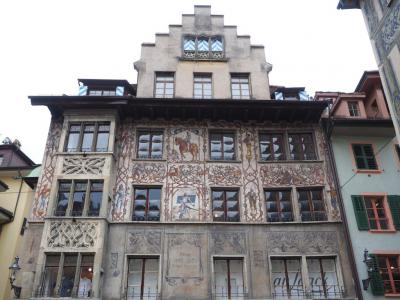 Dornach House, Lucerne
A charming Neo-Gothic-style building with Mannerist fresco paintings, the Dornach House at Hirschenplatz was built around 1900 to a design by Seraphin Weingartner.

Both frescoes and the building itself are dedicated to the Swiss victory in the Battle of Dornach. During this battle on 22 July 1499, the Old Swiss Confederacy decisively beat the troops of Emperor Maximilian I near the Swiss village of Dornach.

This was the last armed conflict between the Swiss and the Holy Roman Empire, and it concluded the Swabian War between the Swiss and the Swabian League, amounting to the de-facto independence of Switzerland from the Holy Roman Empire. This was acknowledged by Maximilian in the Treaty of Basel on 22 September (though the independence was not formally recognized until the Peace of Westphalia of 1648).
Walking Tours in Lucerne, Switzerland