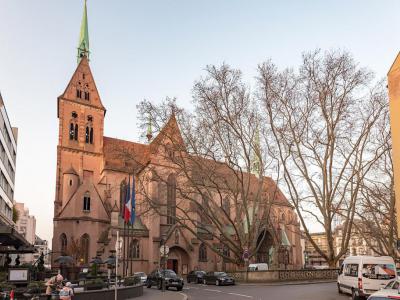 Église protestante Saint-Pierre-le-Jeune (Young St. Peter's Protestant Church), Strasbourg
There are three churches in Strasbourg dedicated to Saint Pierre - the Old (Saint-Pierre-le-Vieux), the Catholic (Église Catholique Saint-Pierre-le-Jeune), and the Young (Église Protestante Saint-Pierre-le-Jeune). The last one, Saint-Pierre-le-Jeune Protestant Church, is a vital church building in the city and is filled with history.

The oldest parts of the church date back to the seventh century. This includes the burial crypt and the small lower church. The church was expanded over the centuries. In the 11th century, three arched galleries were added, and in the 14th, the fourth was put in.

The present-day main building of the church was built in the 14th century. It's Gothic, with chapels and a ribbed vault. Around this time is when many of the frescoes were added, as well as items like the choir screen, baptismal font, and memorial slabs.

In 1780 a grand choir organ was built by Johann Andreas Silbermann. Helmut Walcha recorded many of his performances of Bach's works on this masterpiece instrument. The organ was restored in 1948 and 1966.

Guide sheets and brochures are available to help you see and understand the details of the church. Additionally, volunteers are usually present to help out and answer questions.
Église protestante Saint-Pierre-le-Jeune (Young St. Peter's Protestant Church) on Map
Walking Tours in Strasbourg, France