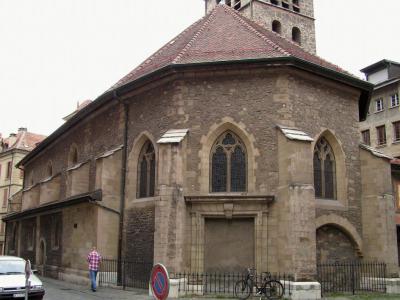 Eglise Saint-Germain, Geneva
The Church of Saint-Germain de Genève is a Catholic place of worship, one of the seven historic parishes in the city. The current Gothic-style edifice was built in the 15th century, initially as a Protestant church. It stands on the site of an early Christian basilica dating from the 9th century, succeeded by a Romanesque church built in the 12th century and renovated, following a fire, in 1334.

The first ever Reformation preaching in Geneva took place inside this very church in 1535. Between 1537 and 1554, the building was used as a butcher's shop. It fully resumed religious service – as a Protestant sanctuary – in the 18th century, temporarily replacing the Saint-Pierre cathedral.

After the French invasion in the early 19th century and the ensued concordat of 1801 between Pope Pius VII and Napoleon Bonaparte, which obliged the local authorities to tolerate the presence of a Roman Catholic church in the city, the Saint-Germain church was designated for conversion in 1803. In 1873, it was put at the disposal of the Christian Catholic Church and, after the separation of the Church from the State in 1907, became the property of the Christian Catholic Church of Geneva.

A devastating fire in the bell tower in the early 20th century destroyed the church bells. To replace the damage, a bell from the city clock tower, weighing 120 kilos, cast in Geneva by Jean-Louis Revillard in 1764, was brought in. The entire renovation lasted from 1906 to 1908. In 1908, outside the wall of the sacristy, above a fountain, a sundial made by Genevan artist Albert Schmidt was installed. This sundial shows only the morning hours and carries a motif, featuring death riding a donkey under the sun, in which death represents the vanity of the earthly life.

In 1921, the Saint-Germain was declared a historic monument and a Swiss cultural property of national importance. As of 1973, it has been hosting outdoor summer concerts of classical music. In 2008, to mark the centenary of the 1908 restoration of the bell tower, two additional bells, weighing 260 kg and 70 kg each, cast by the Paccard foundry in Annecy, were added.
Sight description based on Wikipedia.
Eglise Saint-Germain on Map
Walking Tours in Geneva, Switzerland