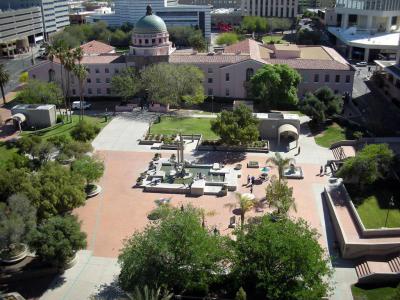 El Presidio Park, Tucson
Between the Old County Courthouse and City Hall lies El Presidio Park. What looks like a simple park actually has a very long and storied history.

The land was first used as a park in 1776. It also served as a military garrison for the Spanish and American settlers. In 1862, the area was designated as a free zone. It wasn't until the 1970s that it became a park once more.

Today, El Presidio Park is nearly three acres of green space, a rose garden, veterans memorials and art installations. It is not uncommon to see festivals taking place in the park, including the Tucson Folk Festival and the Tucson Meet Yourself Festival. It is also a popular spot for political rallies, celebrations and weddings.

Tourists should stop at each of the memorial statues to develop an understanding of the changes that took place over the years. They can also see an original marker of the walls of the old Presidio.
Walking Tours in Tucson, Arizona