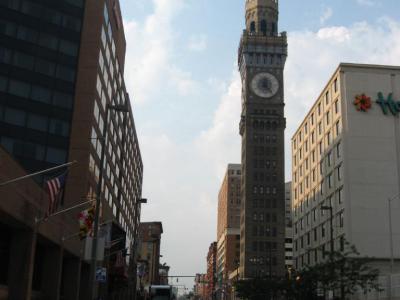 Emerson Bromo-Seltzer Tower, Baltimore
The Emerson Bromo-Seltzer Tower, standing at 15 stories high and 88 meters tall, is an iconic skyscraper in downtown Baltimore. Built in 1911, the tower was designed by architect Joseph Evans Sperry for Isaac E. Emerson, the inventor of Bromo-Seltzer, a popular headache remedy at the time. The tower was the tallest building in Baltimore from its construction in 1911 until 1923, and its design was inspired by the Palazzo Vecchio in Florence, Italy, which Emerson saw during a tour of Europe in 1900.

The tower features four clock faces on its 15th floor, each measuring 24 feet in diameter, with the letters "B-R-O-M-O S-E-L-T-Z-E-R" in translucent white glass, and the Roman numerals being less prominent. Originally powered by weights, the clocks are now electrically powered and are illuminated at night by mercury-vapor lamps. The minute and hour hands of the clocks are 12 and 10 feet in length, respectively.

The tower was originally topped by a 51-foot Bromo-Seltzer bottle, which rotated and glowed blue, with 314 incandescent light bulbs, and a crown. However, due to structural concerns, it was removed in 1936. Despite this, the tower remains a Baltimore landmark and is listed on the National Register of Historic Places.

After an extensive renovation, the Bromo Seltzer Arts Tower was opened in 2008 and now houses studio spaces for visual and literary artists. The tower also features the still-functioning tower clock, the largest four-dial gravity-driven non-chiming clock in the world, designed by Seth Thomas in 1911. The clock underwent a full restoration in 2017.

The Emerson Bromo-Seltzer Tower is a historic and impressive structure that has stood the test of time and remains an important part of Baltimore's skyline and cultural heritage.
Emerson Bromo-Seltzer Tower on Map
Walking Tours in Baltimore, Maryland