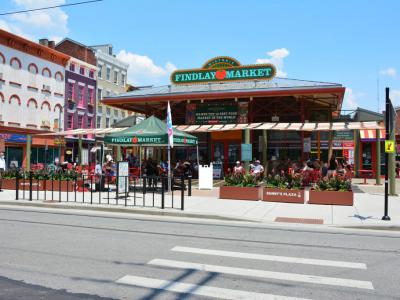 Findlay Market, Cincinnati
(must see)
Findlay Market is the oldest continually operated public market in the city. The original Findlay Market was founded in 1852. It was located on land owned by James and Jane Irwin Findlay. It has been named one of the top 10 public markets in the world by "Newsweek" magazine.

The market features full-time vendors who sell meat, fish, flowers, produce, cheese, bakery items, beverages and other food items. There are also vendors who sell artisan crafts like candles, home decor, soaps and pottery.

From March through December, a farmer's market opens at Findlay Market on weekends. Along with the regular vendors, the farmer's market features outdoor vendors and street performers.

Unlike many other public markets in the United States, Findlay market is open year-round. Visitors can shop from 10 AM to 4 PM on Sundays, from 8 AM to 6 PM on Saturdays and from 9 AM to 6 PM during weekdays. The market is closed on Mondays.
Walking Tours in Cincinnati, Ohio