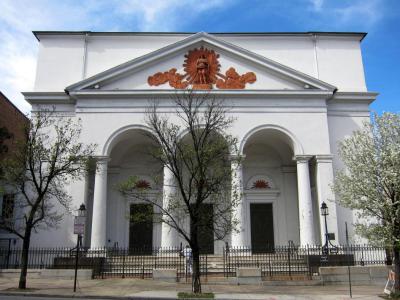 First Unitarian Church of Baltimore, Baltimore
The First Unitarian Church of Baltimore has a rich history dating back to 1817 when it was founded as the "First Independent Church of Baltimore" by a group of free thinkers with "liberal sentiments" on religion. The church was built within two months of its founding, and completed in 1818. It is the oldest purpose-built Unitarian church in North America and a National Historic Landmark.

Designed by French émigré Maximilian Godefroy, the church is considered among the world's finest examples of French Neoclassical architecture. Its design was daring for the time, using basic shapes of the cube, sphere, and triangle with a minimum of detail.

In 1893, a major interior renovation was undertaken, which added a barrel-vaulted ceiling to improve the sanctuary's acoustics and a Tiffany mosaic of "The Last Supper" composed of some 65,000 pieces of favrile glass.

The church played an important role in the development of Unitarianism in the United States. At the 1819 ordination of the church's first minister, Jared Sparks, the Rev. Dr. William Ellery Channing delivered a landmark sermon that defined the tenets of Unitarianism in the United States, emphasizing freedom, reason, and tolerance. Known as the "Baltimore Sermon," it led to the formation of the denomination in 1825.

Over the years, the First Unitarian Church of Baltimore has had a number of notable members, including artist Rembrandt Peale, George Peabody, Enoch Pratt, pioneering social worker Mary Richmond, and Adelyn Breeskin, the first woman director of the Baltimore Museum of Art.

Today, the church continues to serve as a spiritual and cultural center for its congregation and the community. Its rich history and beautiful architecture make it a must-see destination for anyone interested in the history of religion and architecture in America.
First Unitarian Church of Baltimore on Map
Walking Tours in Baltimore, Maryland