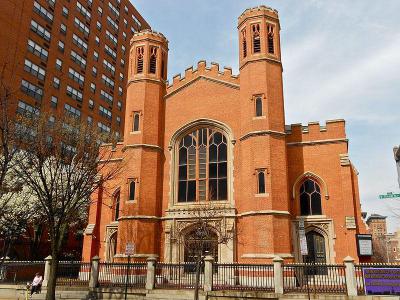 Franklin Street Presbyterian Church and Parsonage, Baltimore
The Franklin Street Presbyterian Church and Parsonage were built in 1847 and 1857, respectively, and designed by architect Robert Cary Long, Jr in the Tudor Gothic style. The church was incorporated in 1844 by a group of men from the First Presbyterian Church, which was located in downtown Baltimore.

The front of the church features two flanking octagonal towers, each standing at 60 feet tall. The towers are also crenelated and have louvered belfry openings and stained glass Gothic-arched windows.

The manse or parsonage at the north end of the church has similar matching walls of brick, heavy Tudor-Gothic window hoods, and battlements atop the roof. The church is located on "Cathedral Hill," in the southern part of the community, bordering downtown Baltimore to the south and across the street from the old Baltimore Cathedral (Basilica of the National Shrine of the Assumption of the Blessed Virgin Mary), erected 1806-1821, and designed by Benjamin Latrobe, which was the first Catholic cathedral constructed in America.

In 1973, the First and Franklin Street Presbyterian Church was formed by two historic downtown area congregations, and the Franklin Street building was used by the merged congregation for a time.

Later, the building was sold to a fundamentalist independent Protestant congregation and was later re-sold to the present "New Unity Church Ministries." The church is no longer used by a Presbyterian congregation and is currently occupied by the New Unity Church Ministries / New Unity Baptist Church, with Pastor Johnny N. Golden, sr.

The church and manse / parsonage in the rear were listed on the National Register of Historic Places on November 5, 1971. They are included within the Cathedral Hill Historic District and the Baltimore National Heritage Area and in the Mount Vernon-Belvedere neighborhood.
Franklin Street Presbyterian Church and Parsonage on Map
Walking Tours in Baltimore, Maryland