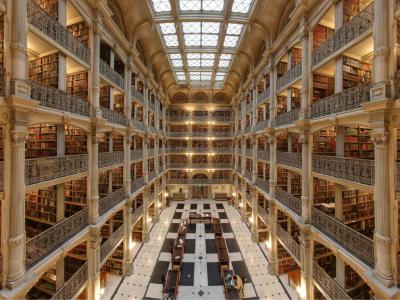 George Peabody Library, Baltimore
The George Peabody Library is a world-renowned research library recognized for its exceptional beauty and impressive collection. Originally established in 1857 as part of the Peabody Institute of the City of Baltimore, the library was funded by George Peabody, a successful Baltimore merchant and War of 1812 veteran who pledged $300,000 for its construction.

The library was designed by architect Edmund G. Lind and officially opened in the late 1870s as part of the east wing of the Peabody Institute. The structural design of the stack room is particularly noteworthy, featuring five tiers of cast-iron balconies that rise to a skylight 61 feet high.

The result is a stunning visual display of the library's 300,000 volume collection, which focuses on texts from the 19th century and covers a diverse range of topics, including religion, art, architecture, topography, science, geography, exploration, and travel.

Despite its status as a leading center for teaching and research, the George Peabody Library remains open to the public, in keeping with Peabody's original intention to create a library "for the free use of all persons who desire to consult it."

Over the years, the library has changed ownership several times, first being transferred to the City of Baltimore and then to the Enoch Pratt Free Library before ultimately becoming part of The Johns Hopkins University educational system in 1982.

Today, the George Peabody Library continues to be a source of inspiration and wonder for students, researchers, and visitors from around the world. Its stunning architecture and impressive collection of rare and unique texts make it a must-see destination for anyone with an interest in history, literature, or architecture.
George Peabody Library on Map
Walking Tours in Baltimore, Maryland