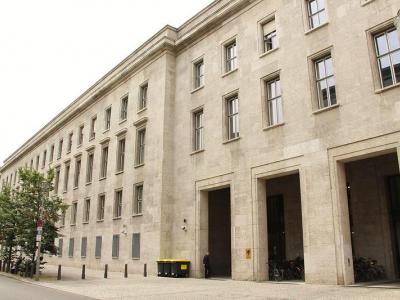 Goebbels' Propaganda Ministry, Berlin
Shortly after Hitler's appointment as Reich Chancellor of Germany in January 1933, the propaganda head of the Nazi party, Joseph Goebbels was rewarded for his part in bringing the Nazis to power by being appointed Reich Minister of Public Enlightenment and Propaganda ("Volksaufklärung und Propaganda"), with a seat in the Cabinet. The role of the new ministry, which took over palatial accommodation in the 18th-century Leopold Palace on Wilhelmstrasse, just across from Hitler's offices in the Reich Chancellery, was to centralize Nazi control of all aspects of German cultural and intellectual life, news media, literature, visual arts, filmmaking, theatre, music, and broadcasting. An unstated goal was to present to other nations the impression that the Nazi Party had the full and enthusiastic backing of the entire population.

A major focus of the propaganda was Hitler himself, who was glorified as a heroic and infallible leader and became the focus of a cult of personality. Much of this was spontaneous, but some was stage-managed as part of Goebbels' propaganda work. An example of the latter would be the 1934 Nuremberg Rally – effectively, the first produced-for-camera event wherein Hitler's moves were carefully choreographed. The rally was the subject of the film "Triumph of the Will", one of several Nazi propaganda films directed by Leni Riefenstahl.

With nationalist socialist architecture expressed in the building's structure and façade design, the Propaganda Ministry grew steadily from 5 departments and 350 employees in 1933 to 17 departments and 2,000 employees by 1939. WWII was conducted with a much greater level of propaganda than WWI, especially in the new media of film, newsreels and radio broadcasting. Because of practical experience and scientific occupation in Europe and the USA, propaganda was organized in a planned fashion. A new psychological warfare was born.
Goebbels' Propaganda Ministry on Map
Walking Tours in Berlin, Germany
Useful Travel Guides for Planning Your Trip
---