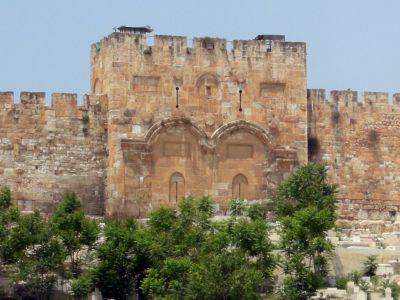 Golden Gate, Jerusalem
The Eastern Gate of the Temple Mount, commonly known as the Golden Gate, is unique in terms of being the only eastern gate and one of only two gates that used to provide access into Jerusalem from that side. Reputedly, this is the oldest gate of the Old City with the times of construction varying between 520 and somewhere around 640 A.D. The double entrance with two vaulted halls was ultimately sealed shut in 1541 by the Ottoman sultan Suleiman the Magnificent, prior to which it was closed in 810 (also by the Muslims), then reopened in 1102 by the Crusaders, and then walled up again by Saladin after defeating the Crusaders in 1187.

The gate holds historical and traditional significance for the Jews, primarily as an indicator of the Messiah meant to come, as it is prophesied that the Savior would enter Jerusalem through this gate. In Hebrew, it is called Sha'ar Harachamimi —"the Gate of Mercy" — for the direct access it provided to what used to be the Jewish Temple. For Christians this gate is important as the place where the parents of Mary met after the Annunciation thus symbolizing the virgin birth of Jesus, as well as for being the gate through which Jesus himself passed on Palm Sunday. The Muslims refer to it as Bab al-Dhahabi or Bab al-Zahabi ("Golden Gate" or "the Gate of Eternal Life") believing this will be the site of Allah's final judgment and future resurrection.

Because of all three religions placing such importance on the Golden Gate, it remains one of the most history-rich and controversial sites in Jerusalem. While the Jews insist that Suleiman sealed off the gate in a bid to prevent the Jewish Messiah from entering the city, the sultan may have taken this step purely for defensive reasons. Some even claim he did it to stop a false Messiah or "Antichrist" passing through, for which reason the Ottomans built a cemetery in front of it.

From the Golden Gate, you can traverse easily to the Temple Mount to get a magnificent view across the Kidron Valley to the Mount of Olives. If you take a little hike into the lowlands, you will find the old trail to Bethany, or make way to the famous Garden of Gethsemane.
Walking Tours in Jerusalem, Israel
Useful Travel Guides for Planning Your Trip
--- 16 Uniquely Israel Things to Buy in Jerusalem
Modern day Jerusalem is a mosaic of neighborhoods, reflecting different historical periods, cultures, and religions. The influx of repatriates in recent years has made the cultural and artisanal scene of the city even more colourful and diverse. To find your way through Jerusalem's intricate...