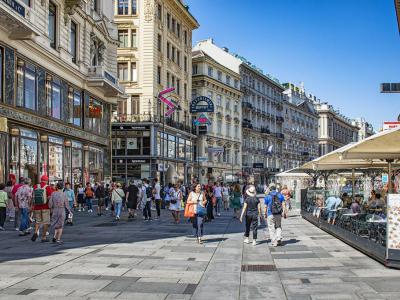 Graben Street, Vienna
Der Graben (or the "Ditch") is one of the most famous streets in all of Vienna. It dates back to the Roman times and has been an integral part of the city throughout history. The likes of Richard the Lionheart himself once set foot on this road when entered the city.

The name comes from an old trench that used to roughly follow the shape of the road. Eventually, it was filled in, and thus caused the Graben to become one of the first modern roads in Vienna.

You can start at Stock-im-Eisen-Platz and travel down to the other end, at Tuchlauben, passing by some truly wonderful old buildings. Among them are the Ankerhaus, a place where Otto Wagner used to live, and the Palais Bartolotti-Partenfeld, the favorite summer home of the famous Baron family, to mention but a few.

On the way, you will want to visit the Generalihof, the former seat of the Leopold Kozeluch Musikalisches Magazin ("Music Magazine") publishing house, founded in 1784, in which some of the works by Wolfang Amadeus Mozart were published for the first time. Moving down the road, you can see the Grabenhof, one of the most distinctive buildings at the heart of Vienna's pedestrianized downtown, the former home of Joseph Ferdinand Sonnleithner, founder of the famous music society of Vienna. Built in 1876 and designed by Otto Wagner and Otto Thienemann, it stands on the site of the historic Arkadenhaus that had been there since the late 16th century.

No trip down der Graben would be complete without a stop to see the ERSTE Foundation building, housing the headquarters for the Erste Osterreichische Spar Casse, Austria's biggest savings bank, established since 1835.

Why You Should Visit:
To marvel at beautiful architecture and Baroque statues, and enjoy the musicians and street actors along the way, as you shop, eat, sightsee and soak up the life of Vienna.
A fantastic place to visit, especially during Christmas, with all the decorations, lamps and snow.
Sight description based on Wikipedia.
Walking Tours in Vienna, Austria
Useful Travel Guides for Planning Your Trip
--- 7 Ultimately Austrian Foods to Taste in Vienna
Once the center of the vast Hapsburg Empire, stretched from France in the West to Russia in the East, Austria has embraced many ethnic influences in its cuisine over the course of centuries. Many of the country's distinctive dishes reflect its multinational heritage. Coffee culture, for... Top 16 Austrian Things to Buy in Vienna
Vienna stool, Viennese schnitzel, Viennese waltz, Vienna sausage, Viennese apple strudel... There's so much Vienna to it, that you might think you've heard it all. Luckily, chances are that you haven't and there's much more in store left to be discovered about this fascinating...