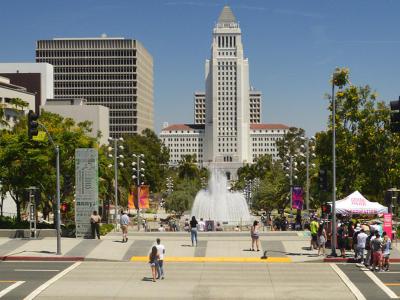 Grand Park, Los Angeles
With only 12 acres (4.9 ha) of land to it, LA's Grand Park pales in comparison to other major urban parks in the U.S., in terms of size. However, this lack of landmass is overcompensated by beautiful surroundings in which dozens of buildings cascade downhill to create a majestic, almost Roman sense of design and continuity in one of the country's most architecturally magnificent community areas.

Indeed, the power, beauty, history, and future of Los Angeles are masterly displayed here in full splendor in the sleek lines of the Los Angeles Department of Water and Power building, the Music Center Plaza, and the Modern American-style City Hall overlooking the park.

Inspired by the City Beautiful movement, landscape architect Charles Mulford Robinson proposed to create this park area in 1907. However, it took half a century to cluster the LA County government buildings in one place before the park project finally materialized, in 1957. As for the Civic Center – the administrative core of the City and County of Los Angeles complete with plazas, fountains, and a Court of Flags, – this undertaking was accomplished in 1966.

Gated off and safe to roam, the pedestrian-friendly park features tree-shaded sidewalks, a tropical greenhouse, a radiant colorful water fountain, performance lawns, and courtyards, as well as restrooms and snack kiosks to encourage visitors to walk and explore. In addition to providing scenic photo opportunities, the place is famous for hosting seasonal social events, such as summer dancing and movie screenings, fitness boot camps, plant sales, the Day of the Dead (Día de Muertos) festival, and, of course, New Year's Eve countdown. And the best part is that most, if not all, of these events are free!
Walking Tours in Los Angeles, California
Useful Travel Guides for Planning Your Trip
---