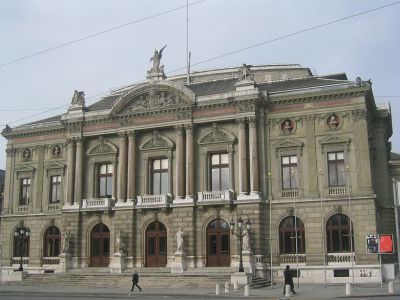 Grand-Théâter, Geneva
As with many other opera houses, the Grand Théâtre de Genève is both a venue and an institution. The majestic edifice, towering over Place Neuve, officially opened in 1876; partly destroyed by fire in 1951 and reopened in 1962, after extensive refurbishments, it houses the largest stage in Switzerland. As an institution, it is the largest production and host theatre in French-speaking Switzerland, featuring opera and dance performances, recitals, concerts and, occasionally, theatre.

The first stone in its foundation was laid in 1875, and the official inauguration took place in 1879 with a performance of Rossini's William Tell opening the season. The new building was rated among the ten best opera houses in Europe, close behind the recently completed Palais Garnier in Paris, from which it drew considerable architectural inspiration, in its Second Empire (Neo-Baroque) style.

The first Grand Théâtre was not only lavishly decorated; its technical infrastructure was also state-of-the-art for the period, featuring a stage curtain powered by hydraulic pressure from the nearby Usine des Forces Motrices power plant on the river Rhône, and electrical lights replacing the gas lighting during performances.

On 1 May 1951 at 12:08 pm, while stagehands were preparing a set for the third act of Wagner's Die Walküre, a terrible fire broke out, destroying the stage, fly loft, grid and gangways and their mechanical and electric machinery.

After the disaster, the City of Geneva commissioned several reconstruction projects. The reconstruction was finally conducted between 1958 and 1962. The Grand Théâtre reopened in December 1962, with the French version of Verdi's Don Carlos. Since this revival, several renowned directors have managed the Geneva opera house, including Marcel Lamy, Herbert Graf, Jean-Claude Riber, Hugues Gall, Renée Auphan, Jean-Marie Blanchard, and Tobias Richter.
Sight description based on Wikipedia.
Walking Tours in Geneva, Switzerland