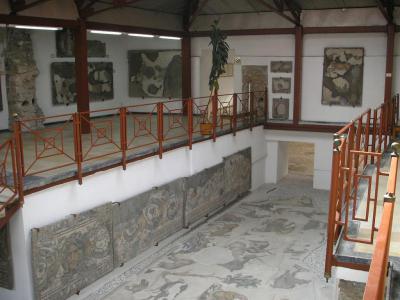 Great Palace Mosaics Museum, Istanbul
The Museum of Great Palace Mosaics is a bi-level gallery within the Blue Mosque compound, beneath the Arasta Bazaar. It hosts one of the most beautiful pavement mosaics in the world unearthed at the site of the Byzantine-era Great Palace of Constantinople. If the mosaics of Hagia Sophia and Kariye Museum (Chora Church) left you jaw-dropped with admiration, then you should visit this place for certain.

While not as grand as the former two sites, the mosaics here are truly impressive, originated circa 450-550 AD. 40,000 pieces of limestone, earthenware and colored stones once formed part of a large (1,872 square meter) peristyle courtyard within Constantine the Great's Palatium Magnum (Great Palace) during the East Roman period, largely predating the Ottoman's Blue Mosque.

In the 7th and 8th century, when painting was forbidden, the ground mosaics were covered with huge marble panels and forgotten. During the Ottoman era, due possible danger from the sea, the palaces were moved to the Golden Horn region and a residential district was established over the mosaics area (with no idea they were there). It wasn't until 1921 that the excavation works started after a big fire hit the area and the hidden mosaics showed up. Diggings continued throughout 1935-1951 led by archaeologists from St Andrews University, Scotland.

The mosaics lie largely where they were found, featuring over 150 human and animal figures, depicting daily life, mythological gods, animals in a fight and hunting scenes, and are rightfully considered one of Istanbul's greatest finds of the 20th century. The site was declared a museum in 1997. The museum is open daily: 9:00-19:00 (15 Apr-25 Oct); 9:00-17:00 (25 Oct-15 Apr). Ticket counters close 30 minutes before the museum closing time. Purchase of the Museum Pass – a 72 hour museum access card – will grant you free access.
Great Palace Mosaics Museum on Map
Walking Tours in Istanbul, Turkey
Useful Travel Guides for Planning Your Trip
--- Istanbul Shopping Guide: 16 Turkish Items To Bring Home
Istanbul, known throughout history as Byzantium and Constantinople, has been a major center of commerce and trade, a place where merchants and general folk would rush to regularly in search of exotic things. In our days, modern travelers to Istanbul are also bound to enjoy a truly magnificent...