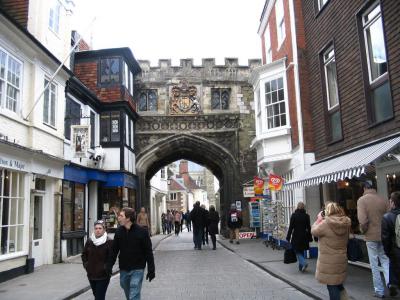 High Street Gate, Salisbury
One of the five entries in Salisbury's old city wall (including 14th-century St Ann's Gate, Queen's Gate and St Nicholas's Gate, as well as Wordsworth School Gate built in the 19th century), High Street Gate is the main entrance to Salisbury's Cathedral Close and, once was, a key access point to the rest of the city.

As its name suggests, the gate is located on High Street; its other name is the North Gate. The structure was built somewhere between 1327 and 1342, using a mix of rubble stone and ashlar, and originally housed a small lock-up jail for those convicted of crimes within the Liberty of the Close. The gate was designed mostly for pedestrian traffic, more common in those days, rather than as a carriageway (especially now, it proves a bit too tight for contemporary vehicles).

Over the course of centuries the High Street Gate underwent several modifications, with a portcullis added and then removed, windows and a staircase (leading to an upper room flanking the carriageway on the one side) added in the late 15th century, a new roof (replaced in 1901) and a door added to the nearby Porter's Lodge in the 17th century. The lodge housed the Close porter, a much sought-after sinecure for the servants of kings and nobles in the Middle Ages.

The gatehouse was used as an office of the Cathedral clerk of works in 1950 and is still in use as an office. The buildings on either side were originally shops and houses for lay vicars; most of them are now private homes.

On the town side of the gate is the Stuart royal coat of arms, added in the 17th century, and on the other side is a statue of Edward VII, which was put there in 1902.

The gate is locked at 11 pm and opens again at 6 am.
Walking Tours in Salisbury, England