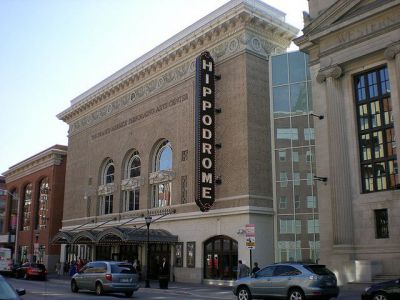 Hippodrome Theater, Baltimore
The Hippodrome Theatre in Baltimore, Maryland, is a historic vaudeville theater that opened in 1914. The theater was designed by Thomas Lamb, a renowned theater architect of the time, and had a capacity of 2300 seats. It was originally built as a movie theater and vaudeville house, and it boasted a Moller organ and a house orchestra that played until the 1950s.

The Hippodrome Theatre was a major attraction in Baltimore, and by 1920, it hosted 30,000 attendees a week. Some of the biggest stars in the entertainment industry graced its stage, including Bob Hope, Jack Benny, Red Skelton, Benny Goodman, Dinah Shore, Martha Raye, Milton Berle, the Andrews Sisters, and Morey Amsterdam. The Hippodrome Theatre was also where Frank Sinatra first appeared with the Tommy Dorsey Orchestra in 1939.

After several decades of declining business, the Hippodrome Theatre closed its doors in 1990 as the last movie theater in downtown Baltimore. However, in 2004, the theater was reopened as part of the France-Merrick Performing Arts Center, which also saved two other important historic buildings in the area, the Western National Bank and the Eutaw Savings Bank.

Since its reopening in 2004, the Hippodrome Theatre has become the city's premier venue for touring Broadway productions and other high-quality live performances. Some of the blockbuster musicals that have graced its stage include Wicked, The Lion King, Les Misérables, Hairspray, and Cats. The theater is the heart of the Bromo Tower Arts and Entertainment District, which is part of a plan to revitalize the West side of downtown Baltimore and its vicinity.

The Hippodrome Theatre's history and recent renovation make it a significant cultural landmark in Baltimore, and it continues to attract audiences with its world-class performances and stunning architecture.
Hippodrome Theater on Map
Walking Tours in Baltimore, Maryland