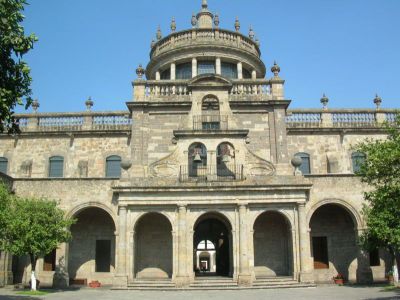 Hospicio Cabañas (Cabañas Orphanage), Guadalajara
(must see)
The Bishop of Guadalajara founded the Cabanas Orphanage in the 1700s. Architect Manuel Tolsa designed the current building, which opened in 1810. The orphanage was named after Juan Ruiz de Cabanas, who oversaw the orphanage's construction. The orphanage was built to function as a hospital, workhouse, orphanage, and almshouse. It housed 500 children at a time.

The orphanage was built as a single-level building to make moving children, patients, and the elderly easy. Most of the building is 7.5 meters high (25 feet), but the chapel's dome rises to 32.5 meters high (107 feet). The orphanage's exterior features six Doric columns. The interior has 23 courtyards that are surrounded by hallways.

The building continued to function as a hospital until 1980 when the Cabanas Cultural Institute took over. Hospicio Cabana was designated a UNESCO World Heritage Site in 1997.

Visitors can see several impressive artworks and frescoes in the Cabana Orphanage. The interior features dozens of frescoes painted by renowned Mexican artist Jose Clemente Orozco. One such fresco is the celebrated The Man of Fire, painted between 1936 and 1939. In this mural, a human figure is wreathed in flames, and figures resembling zombies watch from below.

In 2014, Daniel Buren created a series of artworks in the orphanage's courtyards. Buren painted geometric shapes and used bright colors and mirrored structures to distort the traditional surroundings.

Artist Alejandro Colunga created two impressive sculptures outside the orphanage. The sculptures are called The Hall of the Magicians (La Sala de Los Magos) and The Universal Wizards (Los Magos Universales).
Hospicio Cabañas (Cabañas Orphanage) on Map
Walking Tours in Guadalajara, Mexico