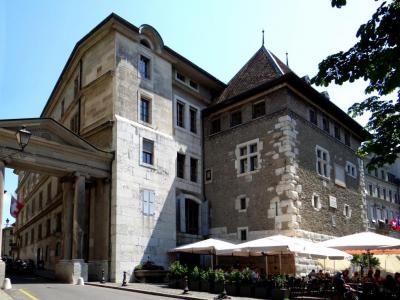 Hôtel de Ville (Geneva Town Hall), Geneva
For over 500 years, Geneva's Town Hall has been at the heart of local and even international political life. As the seat of the government of the Canton and the Republic of Geneva, this place has witnessed a number of events of great historic importance.

In 1864, the building's Alabama Room saw the signing of the very first Geneva Convention, the founding act of the International Red Cross. Also, in 1872 it was here that the international arbitration court ended a long-standing conflict between the United States of America and Great Britain.

The 16th century building boasts three stories of neoclassical design, with a large courtyard and a huge paved ramp. The ramp is a unique cobbled spiral staircase built between 1555 and 1578 enclosed within a square tower, allowing direct access to the upper floors on horseback. Today, visitors can walk up in their forefathers' "hoof-steps" only on foot!
Hôtel de Ville (Geneva Town Hall) on Map
Walking Tours in Geneva, Switzerland