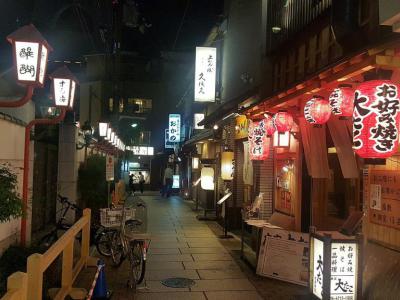 Hozenji Yokocho, Osaka
Hozenji Yokocho is a stone-paved street located next to Dotombori Street. Though it is located in one of the busiest areas of Osaka, it remains quaint and cozy, lined on both sides with small food shops and restaurants. It is the perfect spot for weary tourists to take a break.

There are many Japanese restaurants located at Hozenji Yokocho. These restaurants, bars, and street food stands are mainstays of the environment. There are so many places to eat that many tourists find themselves returning to Hozenji Yokocho day after day.

Those visiting Hozenji Yokocho should check out the moss-covered Mizukake Fudo statue. The guests will notice a signboard with calligraphy written by the third Harudani Katsura on the east gate, and by Kambi Fujiyama on the west gate. A moss-covered Buddha is also present at Hozenji Yokocho.

The business hours for each restaurant vary. Those who want to have an assortment of meals should plan to visit Hozenji Yokocho during the weekdays between 8 AM and 4 PM to ensure their favorite restaurant will be open.
Walking Tours in Osaka, Japan