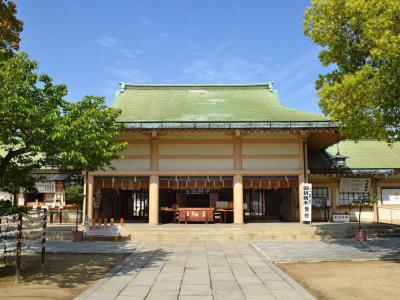 Ikukunitama Shrine, Osaka
The Ikukunitama Shrine is dedicated to the Shinto deities, Ikushima-no-kami and Tarushima-no-kami. It is the venue for many important festivals in Osaka.

The Ikukunitama Shrine was first built on the site that is now the Osaka Castle. It was razed to the ground during the battle of Ishiyama in 1580. It was relocated to its present site when Hideyoshi Toyotomi chose the site to build Osaka Castle. After two years, the main pavilion was built in an innovative style called Ikutama-zukuri. All pavilions were under one roof with three gables in this type of structural design. The shrine suffered damage during the World War II bombings and the present shrine is a recent one made of concrete with a copper roof.

The important festivals that take place in the Ikukunitama Shrine are the Oharae ceremony that takes place on the 30th of June. The rituals are performed to drive away bad luck and disease on this day. The Ikutama Summer Festival takes place here in July and the Osaka Takigi Noh drama festival takes place in August. The most popular event is the Hikohachi festival held on the first Saturday of September in honor of Hikohachi Yonezawa, the first exponent of the Kamikata Rakugo Storytelling technique. Exponents of Raguko tell stories in the unique style to an enthralled audience. Besides the event, the grounds of the shrine are converted into a small fair with many interesting activities for children.
Ikukunitama Shrine on Map
Walking Tours in Osaka, Japan