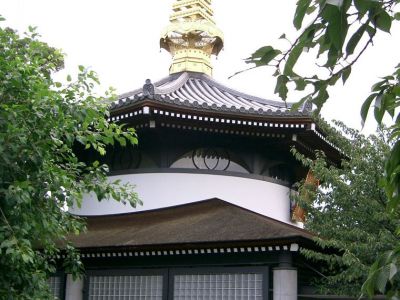 Isshinji Temple, Osaka
The Isshinji Temple is a Buddhist temple managed by the Jodo Shu sect of Zen Buddhism. It is famous for its Okotsubutsu or Buddha statue made from the cremated remains of human beings.

The Isshinji Temple is located near the ancient Shittenoji temple of Osaka. It was established by Honen the founder of the Jodo Shu sect as a small hermitage in 1185. It was a popular place of pilgrimage and the Emperor Goshirakawa came here to pray by repeating the name of the Buddha while facing the setting sun in the hope of being blessed with a happy and peaceful life. The land around the temple was donated by the wife of warlord Hideyoshi Tokotomi and it served as the headquarters of Togugawa Leyasu during the battle of Osaka.

The Buddha statues within the temple are made of the remains of common people whose families left their corpses here. The purpose of turning them into statues was to show respect for the dead by making them objects of worship. A statue was made every ten years and before the Second World War there were 12 Okotsubutsu in the temple. Six were destroyed by the World War II bombardments. The present temple is a recent one with a modern temple gate and Hiso-den or main hall designed by the present head priest of Isshinji Temple.
Walking Tours in Osaka, Japan