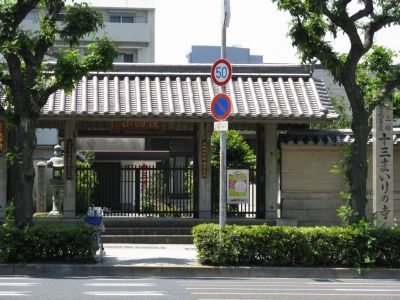 Jusan-mairi-no-tera (Taiheiji Temple), Osaka
The Taiheiji Temple dedicated to Jusan Mairi is located within the Shittenoji Yuhigiaka complex in Osaka. The Shittenoji Yuhigiaka is the oldest temple complex in Japan. The Taiheiji Temple is managed by the Soto sect of Zen Buddhism.

The Jusan-mairi-no-tera (Taiheiji Temple) was built as part of the Shittenoji Yuhigiaka complex at first. When the Shittenoji complex reduced in size after a civil war, this temple remained intact. It was given to the Shingon sect of Zen Buddhism in 1555 and its name was changed to the Ryushoji Temple. The Buddhist priest Ginetsu dedicated the temple to the Soto Sect in 1663 and they continue to manage the temple till today.

The principle deity at the Jusan-mairi-no-tera (Taiheiji Temple) is the Kokuzo Bosatsu, the Bodhisattva of wisdom and prosperity. It is famous for a traditional ceremony where children who turn 13 visit and seek the blessings of the deity on March 13th and April 13th annually. They pray for wisdom in their future endeavors at the temple. The ceremony is called Chiemairi or Wisdom Visit and was a popular tradition during the Edo Era. The temple also has shrines for deities of handicrafts and skill in art. People bring their tools and utensils and Buddhist rites are performed to bless them.
Jusan-mairi-no-tera (Taiheiji Temple) on Map
Walking Tours in Osaka, Japan