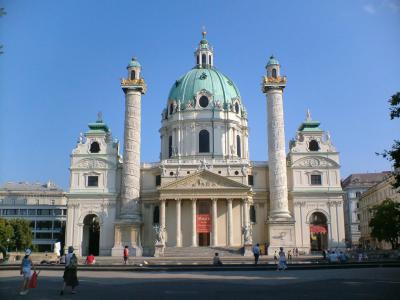 Karlskirche (St. Charles' Church), Vienna
Vienna's Karlskirche (St. Charles' Church) is located in the eponymous Karlsplatz (St. Charles' Square), about 200 meters away from Ringstrasse, and is one of the finest examples of Baroque religious architecture in the city. Among its prominent features are the impressive oval high ceiling dome topping the structure, the elongated form of the building, and the exterior columns modeled on the famous analogues in Rome dedicated to the Emperor Trajan. The Viennese columns celebrate the life of St Charles Borromeo (to whom the church is dedicated) and the vast power of the Hapsburgs, symbolizing the Pillars of Hercules. Another interesting feature are the two spheres with metallic reflective sides allowing viewers to observe more details of the interior.

In recent times, the location has become a very popular tourist attraction, in large part due to its peculiar style, starkly contrasting that of other buildings nearby. St. Charles' is run by a local Catholic order and remains a parish church. It is also seat of the Catholic student ministry of the Vienna University of Technology and thus, apart from being an architectural marvel, is a functional institution.

Erected to celebrate the emergence from black plague that struck Vienna hard in the early 18th century, the Karlskirche is virtually a monument to St Charles Borromeo who was renowned for ministering to the needs of plague victims. History tells that Emperor Charles VI made a vow to God that he would build a church and name it after St. Charles Borromeo, if God relieved the city of the disease. God did, and so did the Emperor.

*****Johann Strauss Walk*****

On May 28, 1878 Strauss married his second wife, a young singer named Angelika Dittrich, at St. Charles' Church. Unfortunately, Dittrich was not a supporter of his music and their marriage ended in divorce in 1882.

Tip:
You have to pay to get in (students get a discount), but it's well worth it for the lovely interior.
There is a lift inside that can take you close to the murals on the dome ceiling. From up there, you can also enjoy a spectacular view of the city from the dome window.
Karlskirche (St. Charles' Church) on Map
Walking Tours in Vienna, Austria
Useful Travel Guides for Planning Your Trip
--- 7 Ultimately Austrian Foods to Taste in Vienna
Once the center of the vast Hapsburg Empire, stretched from France in the West to Russia in the East, Austria has embraced many ethnic influences in its cuisine over the course of centuries. Many of the country's distinctive dishes reflect its multinational heritage. Coffee culture, for... Top 16 Austrian Things to Buy in Vienna
Vienna stool, Viennese schnitzel, Viennese waltz, Vienna sausage, Viennese apple strudel... There's so much Vienna to it, that you might think you've heard it all. Luckily, chances are that you haven't and there's much more in store left to be discovered about this fascinating...