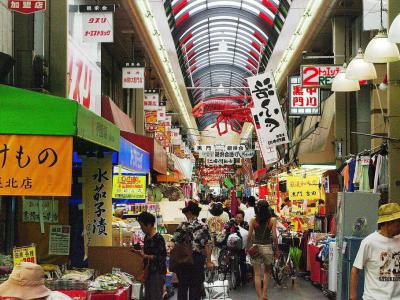 Kuromon Market, Osaka
(must see)
Kuromon Market is a covered street market in the Minami area of Osaka. The market looks modern and fresh, but it dates back to the Edo Period, the time between 1603 and 1867 in the history of Japan.

Kuromon Market contains approximately 150 shops. Most of these shops sell food items, like meat, produce, fish and sweets. It is an excellent place to find and taste a variety of street foods. Some of the more unique options tourists can find are sea urchin, eels, and yakitori.

Those shopping for souvenirs will find plenty of options at Kuromon Market. Though food items are predominant, some shops sell clothing, homewares, jewelry, makeup, and accessories. There is even a 100 Yen shop, where everything that is on the shelves costs only 100 Yen (approximately USD 0.69).

The street is open throughout the day, but each store and restaurant post their hours. Most are open Monday through Saturday from 8 AM to 6 PM.
Walking Tours in Osaka, Japan