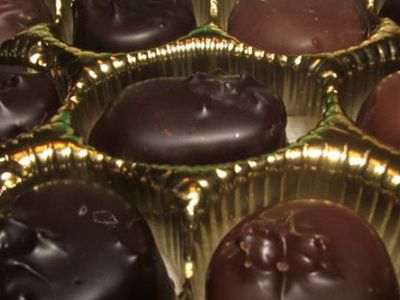 La Bonbonnière, Geneva
Founded in 1921, this small artisanal chocolate institution started off under the name "Confiserie Werder". At the end of WWII, the business was acquired by Madame Bischof who gave it its current name "La Bonbonnière" along with a reputation for high-quality chocolates and service, which was later upheld by new proprietors, the Allombert and then the Marguerat families.

Since the early 2000s, this confectionery has been run by a duo of passionate chocolate masters and entrepreneurs, Yvan Loubet and Cédric Rahm, who continue the history of excellence and tirelessly invest their knowledge in the most delicate flavours and associations to reveal the aromas and subtleties of chocolate. In doing so, they create exceptional products using the carefully selected ingredients and best cocoa beans – refined, harvested, dried and roasted in a strict accordance with the ancient procedures respectful of the environment – delivered from South America, Madagascar and elsewhere in the world.

The result is a wide variety of chocolates: ganaches, pralines, Geneva cakes, cherries from Kirsch du Valais, ginger sticks, candied orange sweets and different types of chocolate candies, with subtle tastes, original and surprising, like bars with Espelette pepper. There is also a choice of "vegan" and "gluten-free" products, plus a number of delicious pastries, such as small and large cakes, biscuits, pies, desserts, verrines and more.

Complementing the wealth of epicurean pleasures here is a beautiful atmosphere and friendly personnel eager to help you decide on the large assortment on offer. You can also personalize your choice by adding more ingredients to your taste, or even a picture, a logo or a phrase.
Walking Tours in Geneva, Switzerland